6 CRM Software Trends To Watch Through 2016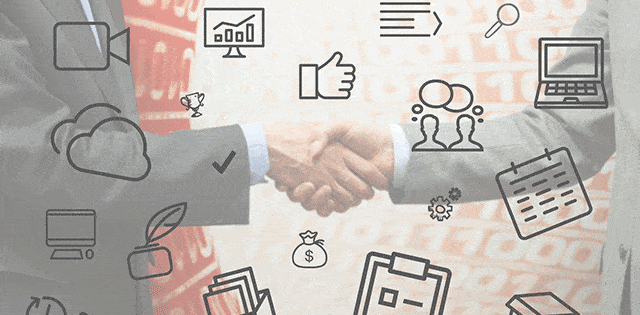 In 2012, the CRM market was worth $18 billion, according to Forbes. By 2013, the value grew 13.7 percent to $20.4 billion — and shows no signs of slowing. And while Salesforce leads the pack at 16 percent when it comes to "big provider" market shares, half the market is made up of startups and smaller vendors. This sets the stage for six developing CRM software trends you can expect to see over the next few years from customer relationship management vendors.

1. More SaaS

Numbers vary among experts, but the message is the same: SaaS will continue to dominate CRM through 2016. By 2015, it's likely that over half of all CRM deployments will be cloud-based SaaS, at least in part, and by 2025 that number could climb to 85 percent.
What does this mean for companies looking at the long game of 2016? That if you haven't invested in SaaS, it's time to start. Everything from databases to contact services to analytics are now available as-a-service, and businesses that aren't among this cloud-enabled group in the next year and a half will be running behind.

2. Digital Disruption

Forrester, meanwhile, sees digital disruption as a critical trend for 2014, but there's little doubt this will continue over the next year and into 2016. With technologies like big data visualization, interactive voice response and on-demand video gaining traction among large enterprises and small businesses alike, companies must be prepared to embrace new solutions and use old methods in new ways. Already, 89 percent of executives see digital disruption heading for their companies, but only 32 percent say they're ready for this trend. Getting out in front of this curve means having a leg up on the CRM competition through 2016.

3. Social Monitoring

Another CRM trend to watch is the evolution of social media monitoring tools. It's no longer enough for companies to simply have Facebook and Twitter accounts; they also need ways to accurately measure the reach and impact of their posts, blogs and tweets. Destination CRM says companies should expect better integration of both social media sentiment and voice-of-customer (VOC) data to produce a holistic picture of consumer satisfaction.
The next challenge, of course, is leveraging this data — response times are critical, as is the content of these responses. Social media cuts both ways: if consumers don't feel their individual problem or concern is being properly addressed, they'll leverage social influence to encourage service.

4. Brand Journalism

Companies should also expect to see a rise in "brand journalism." According to Visual.ly, product managers and marketers are still responsible for the majority of digital writing for their companies. The problem? Most aren't professional writers and don't have the time or resources necessary to create compelling content.
Consumers, meanwhile, have high standards for company blog posts and articles — being grammatically correct and avoiding obvious product placements isn't enough. As a result, it's critical for companies to start thinking about their content. One option is managing a set of in-house or outsourced talent through a SaaS-based CRM module; another is outsourcing the process entirely to specialized agencies.

5. Paid Placements

The next two years will also bring the decline of "free" social reach. It's happening right now as Facebook and other social media giants alter their structure to favor paid-for ads instead of non-sponsored content. Even users prefer this kind of content, since it tends to be of a higher quality than unpaid ads. The result is an evolution of CRM software into a social market platform with the capability to analyze — in real time — the impact of current advertisements and the potential success of new paid content.

6. Hosted PBX

Already, consumers expect near-instant communication from companies — on the phone, via web-based messaging or over social media. The acceptable time-to-response will only decrease over the next two years, meaning companies can't afford to rely on traditional CRM tools to manage customer relations.
Hosted PBX solutions offer all the benefits of a traditional PBX but without the need to store data locally — think of it as a cloud-based call center at a fraction of the cost. In a world where small business can compete at a global level, this kind of corporate-quality communication will quickly become a necessity.

What You'll See by 2016
CRM tools will continue to evolve over the next two years as companies make long-term investments in customer care. Through 2016, expect to see SaaS, digital disruption, social monitoring and advertisement, brand journalism and PBX all play a role in the expanding market.

Interested in more CRM trend posts and best-practices tips? Check out our CRM Resource Center for access to all of our top-notch resources on CRM selection and adoption, product comparisons and advice from industry experts.
[Background photo courtesy of Wikimedia Commons.]