6 Key Features of Marketing Automation Tools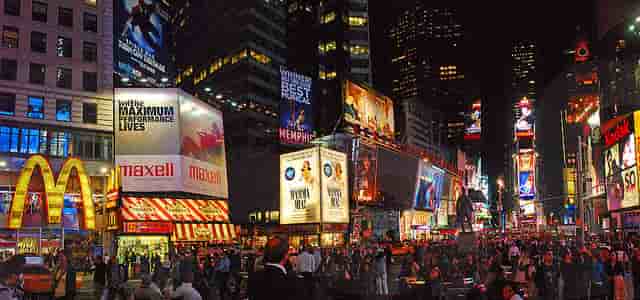 If you have ever been to Times Square in New York City, you know that noticing all of the advertisements placed around the area is instantaneous. The many ads definitely make the environment lively and entertaining to be in — but what most visitors don't notice is that all of those advertisements and brands become subconsciously planted in their mind.
Times Square is an example of marketing on a massive scale. For example, visitors might find McDonald's more memorable because they went to the McDonald's in Times Square. Similarly, people might follow the advice of the billboard that encourages visitors to see the Broadway performance of 'Mama Mia!' or 'Jersey Boys' to get the "Ultimate New York City experience." All of these billboards and digital advertisements are strategically placed to attract users to a brand's product, show or service, which they will then associate with experiencing the city.
Likewise, in the online world, companies strategically place advertisements all over the web to attract visitors to their brand and products. Once they get visitors to their site, those visitors can be converted into leads. One way businesses accomplish this process is through the use of marketing automation software.

What Exactly Is Marketing Automation Software?
Simply put, marketing automation software automates all of your mundane marketing tasks like mass email marketing, social media and campaign management. In addition, marketing automation software can track consumer activity throughout those tasks and analyze trends, consumer behavior and growing markets.
Leading solutions in the industry offer all of the must-have capabilities to streamline marketing activities. Here we cover six of the key features of marketing automation software. To discover more core features and top marketing platforms, download the exclusive Top 10 Marketing Automation Software vendors report.
1. Campaign and Lead Management

With this feature, you can launch marketing campaigns and monitor all of the leads that those campaigns attract. It's a very useful tool for companies that want to experiment and try new marketing approaches to attract all types of customers. Businesses that already know their target consumers can make use of lead tracking to continue adding clients to their consumer database.
In addition, a lead management feature can walk you through the entire lead lifecycle, from the discovery of prospective customers to the final sale. If your ideal marketing automation vendor offers a campaign and lead management feature, it will save you the cost of buying an entirely separate software that only handles campaigns and leads.
2. Email Marketing

An email marketing feature allows businesses to mass-send automated, personalized emails to all types of customers based on demographics, location, spending history, etc.
Email marketing allows you to create specific emails for different demographics, test the effectiveness of the emails and track how many customers click on your email links. Once the customers click on the links provided in email, you can monitor their activity on your site and view their purchasing and browsing history for further analysis.
Analysis of email performance becomes useful when you have a large number of customers to inform about your business, yet you don't have the time or resources to manually personalize and send each email.
3. Mobile Marketing

No marketing automation platform would be complete without having mobile accessibility. What mobile marketing does is help you manage the software platform on any smart phone or tablet remotely, whether in or out of your office.
Mobile marketing lets you define your target mobile consumers, objectives, demographics and value propositions. You can then choose a mobile channel to test your campaign and launch the test, afterwards analyzing the results and then repeating the process. Without a doubt, mobile marketing has been on the rise as employers shift toward smartphones and tablets to conduct their business.
4. Reporting and Analytics

In order to track your marketing campaigns to evaluate whether they are successful, you need a reporting and analytics feature implemented in your marketing automation software. After your marketing campaigns have been implemented, your software program will take in all the data and interpret it in various forms. After analyzing your data, you can test alternative campaigns for comparison and repeat the process.
5. Content and SEO Tools

Another set of important features that takes some of the burden off of your workload: content and SEO automation. With content management tools, you can develop a strategy to create content of interest. From there, you can develop the content, distribute it across multiple channels and promote it on social media and through marketing assets.
SEO tools help you create quality links and effective content that will attract customers to your site. Search optimization features can also help your site jump to the top of search result pages, which drives more traffic to your site.
6. A/B Testing

A/B testing is crucial to marketing and website traffic success. What this feature does is allow you to test out different web page formats, templates and styles to see what appeals to customers. Some designs may tank while others will succeed, but that's what makes successful websites appealing to their customers.
In a nutshell, A/B testing is just an experimental process to test which webpages are more successful than others when it comes to capturing leads. An A/B test tool can be very useful when building a website's structure and developing a format that speaks to your customers.

The Rundown
One thing to note is that your business may not need all of these features — A/B testing may not be necessary if your site gathers a large number of leads, or SEO tools could be less useful if your site already performs at the top of Google search pages. However, if you are looking for a solution to address your marketing troubles through an automated, convenient and time-saving platform, then marketing automation is the right tool for your business.
[Photo courtesy of Flickr user rvc845.]