About Email Security Solutions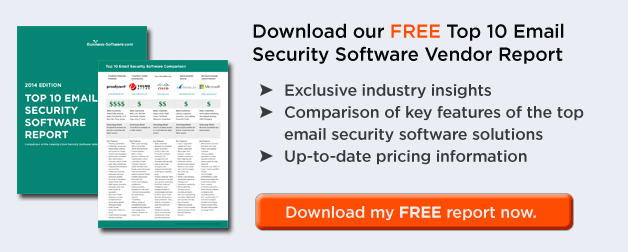 Email security solutions combine technology tools with comprehensive services to preserve the integrity of email communications. Through protection, detection, and control, email security helps companies dynamically identify and prevent viruses, spam, and other risks. By governing both inbound and outbound correspondence, email security solutions help minimize threats and provide maximum safeguards.
Key Benefits of Email Security
Organizations can derive significant benefits from the use of an email security solution, including:
Improved Business Continuity: Viruses, spam, and other problems can halt vital operations, resulting in wasted time and money.
Email security solutions help to eliminate these risks, so companies can prevent related delays and loss of productivity.
Enhanced Information Confidentiality: Product plans, customer data, and financial information require the utmost protection, as a security breach could have devastating effects. With an email security solution, stringent measures are used to secure the distribution of this highly sensitive information at all times.
Increased Regulatory Compliance: Email correspondence is subject to various privacy laws and information sharing guidelines such as HIPAA and SOX. Email security software helps minimize legal exposure, and ensure enterprise-wide compliance with these regulations.
Improved Network Performance: Email security solutions prevent the receipt of corrupted files, viruses, and spam that can slow down network performance and negatively impact the availability and use of email and other business applications.
Does My Company Need an Email Security Solution?
The prevalence of spam and malicious emails continues to grow. Additionally, hackers and other cyber-criminals are becoming more and more sophisticated. No organization is immune to these risks, whether you have 10 or 10,0000 employees, or whether your email servers manage high volumes or small quantities of emails, an email security solution is the best answer to ensure safe communication.
Common Email Features of Security Solutions
Spam Filters
Spam can be very disruptive to an organization, decreasing efficiency and taking up valuable space on email servers. Most email security solutions provide spam filtering, which automatically detects spam, based on pre-defined criteria. These capabilities vary in strength from one email security solution to another, and use a variety of identification techniques, including keyword or key phrase monitoring, large image detection, or the measurement of the ratio of graphics to text. Offending emails are either moved to a separate folder, or instantly deleted from the server, and the sender's email address may be blocked from sending any future correspondence.
Anti-Virus Protection
Many emails contain attachments in various formats, and, there may be instances where those attachments have been unknowingly corrupted by viruses, particularly if the sender does not have an email security solution. Email security solutions are designed to scan all incoming and outgoing attachments, and will block the distribution or receipt of those that are infected. Some of the more advanced email security solutions will even automatically clean any corrupted files it detects.
Content and Image Control
Large images embedded in emails, or content that is graphics-rich, can clog email servers and slow down vital communications. Additionally, incoming or outgoing emails that contain offensive language or pictures can diminish employee morale and ruin a company's reputation. Many email security solutions solve these problems by providing comprehensive content and image control. For example, they will flag emails that include inappropriate content, or that contain images greater than a pre-specified size.
Data Encryption
Every company maintains private and proprietary information. And while that information must often be distributed via email as part of standard business operations, appropriate measures need to be put into place to prevent it from falling into the wrong hands. By encrypting data before it is transmitted from the email server, email security solutions help protect sensitive information from security breaches.
What to Look for When Choosing Email Security Solutions
While you will find many similarities between the many email security solutions available today, there are two key distinguishing features to look for when conducting your evaluations:
Automatic Updates
Hackers are constantly at work, and new viruses emerge all the time. The email security solution you choose must have automatic update capabilities so your company, and its email communications, are fully protected from all the latest and greatest risks.
Scalability
Mergers, acquisitions, corporate growth, and spikes in business activity can all impact the number of email users on your system, as well as the volume of email correspondence you send and receive. Be sure the solution you choose can easily scale to meet your needs as your organization, and its email activity, expands.