About Social CRM Software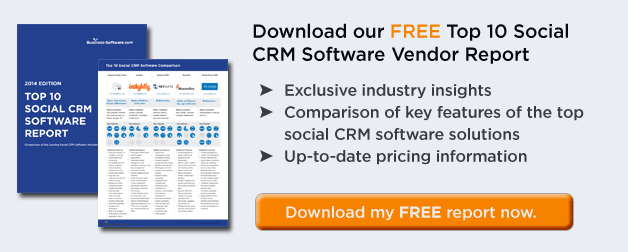 The rise of Web 2.0—social media like blogs, social networks, etc. means people are conversing, sharing information, and exchanging ideas more than ever before. More than 80% of Americans aged 18-55+ use social networks and tools monthly, which means two things: 1) there is a wealth of customer information on these platforms that businesses cannot afford to ignore, and 2) businesses will benefit by reaching out to existing and potential customers through these social platforms.
But managing activity on social networks like Twitter, Facebook, and LinkedIn is not simple, and the influx of social media data can sometimes make already complex tasks seem more complicated and difficult to manage. Previously, traditional CRM systems were the perfect solution for streamlining customer and lead information, and automating sales and marketing outreach. However, the upsurge in social media usage means sales, marketing, and customer service teams need modern CRM systems that help them mine social media data and manage new forms of campaigning.
What is Social CRM Software?
Social CRM is a process for monitoring, engaging in, and managing conversations and relationships with existing and prospective customers and influencers across the Internet, social networks, and digital channels. Social CRM is very much supplementary to traditional CRM processes as it aims to engage communities and foster the creation of content for a targeted market, converting content into conversations and collaborative experiences that will hopefully build meaningful relationships with customers. In many ways, Social CRM is traditional CRM with the bonus of social media/conversational data analysis and management.
At its base, Social CRM software entails the integration of analytics, data pulled from social media and other conversational platforms, and CRM analytics to determine social media ROI and articulate market trends. Social CRM software can help teams across an enterprise map different campaigns and initiatives, manage campaigns across different social media platforms, and offer users better insight into customers' general online behavior.
Key Benefits of Social CRM Software
Social CRM software offers many benefits and can strengthen your corporate ecosystem. Your business will have the contact management advantages of a traditional CRM platform, and the perks of accessing and analyzing consumer conversations on social platforms.
Sales teams can mine social media data for more relevant information about leads and customers.
Marketing departments will be able to connect with customers earlier on in the buying process through conversation monitoring, and will generally have a better insight into sentiment, behavior, and effectiveness of outreach initiatives and marketing campaigns.
Social CRM software also provides companies the opportunity to foster communities with their customers. These communities can be employed by product development teams looking to create effective applications, and help create a good rapport between the customer and your brand.
Support staff can respond to customer difficulties more quickly—sometimes reaching out to the customer before they file their issues. Also, as SaaS deployments, Social CRM software is extremely affordable for companies of all sizes and are easier to implement.
Does My Company Need Social CRM Software?
Businesses of all sizes and in all industries can derive value from Social CRM software. The increasing number of users on social networking sites is a testament to that, and the data created on these sites can prove invaluable.
Common Social CRM Software Features
There are two basic Social CRM models; the first is what many major CRM vendors are offering: social media management capabilities in the form of modules that integrate with their existing CRM platforms. Modules can range from simple (just a Twitter integration) to complex (complete community management) depending on a business's outreach goals.
The second option is Social CRM vendors whose platforms focus almost exclusively on customer relationship management through social networks. This Social CRM software was developed with community engagement and online communication in mind, and are less process-centric than the aforementioned Social CRM software. Some of these products are standalone platforms, but nonetheless they are usually integrative with major CRM platforms. Both platforms are effective, and selection should be made based on specific business needs.
What to Look for When Choosing a Social CRM Solution
Social CRM provides a comprehensive suite of fully-integrated solutions to automate and enhance customer-facing social media processes across your business. Components of a Social CRM software suite include:
Brand Monitoring. A good Social CRM solution will track conversation regarding your brand or business. This can take the form of sentiment tracking on third-party sites (like blogs and reviews) or internal contributions, and even opinions expressed in customer service/support calls.
Social Media Platforms. It wouldn't be Social CRM without the ability to access and contribute to social media platforms—like Twitter and Facebook, to name a few—from within the Social CRM software.
Community Support. Your Social CRM software should allow you to create and manage customer communities from within the platform.
Social CRM Analytics. There's no point in accessing all that data if there are no algorithms to sort it. In addition to providing reports on popular content, search keywords, and navigation paths, some of the best Social CRM software will offer sentiment and behavioral analysis, and will monitor customer interactions within your business's online communities.