Business Performance Management as a Service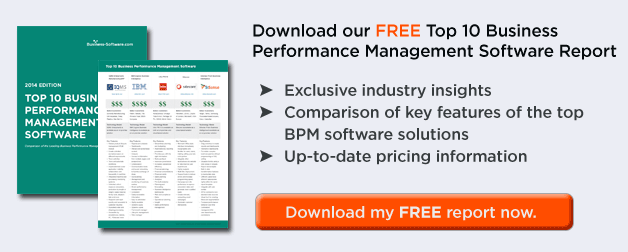 SaaS Business Performance Management
Software-as-a-Service (SaaS) is gaining traction in the enterprise for two reasons. First, major vendors, including Microsoft and Google, are aggressively entering the SaaS market with new offerings. Second, enterprises have entered into a new era where capital expenditures are under review, and return on investment is demanded in under 12 months. The answer to that heightened demand for quick ROI lies in SaaS.
What is SaaS?
Software-as-a-Service is a variation of "cloud computing," where a solution is deployed in a third-party center using a common code base. The solution provider delivers that solution to multiple clients, and end-users access the application over a secure Internet connection.
Business Performance Management and the SaaS Model
Business performance management (BPM) isn't a one-size-fits-all proposition. As an enterprise solution, it requires a high degree of customization and integration, and so it may not be readily apparent how that works with a SaaS model, which uses a common code base to deliver services. The solution is elegant. The BPM software, deployed in the provider's data center, does not demand that each end-user have the same features, or even the same interface. The SaaS model allows for a high level of customization, so that each end-user can select which options they require, and may even adapt the interface to suit their own needs.
Many SaaS offerings revolve around productivity software, with offerings such as Google Apps and Microsoft's Software-Plus-Services. Enterprise-level software is a latecomer to the SaaS model, largely due to concerns over accessibility, stability and security, and many enterprise customers still see SaaS as a risky option when it comes to business-critical applications such as business performance management. Also, integrating on-premises data with an off-premises BPM solution does present some challenges, although these can be addressed with the services of a competent integrator and newer technologies.
The Economics
Naturally, the financial element of delivering BPM as a service as opposed to an in-house implementation is a major factor. BPM is often a very costly proposition and a CFO on a cost-cutting expedition may see it as a perfect opportunity for the budget axe. The service model overcomes that tendency and delivers a significant cost advantage.
Advantage of the SaaS Model for BPM
Besides the obvious cost advantage, the SaaS model allows for much easier upgrades, since all upgrades and patches are made transparently within the third-party data center, thereby relieving the enterprise from that maintenance cycle.
Naturally, the collaboration aspect plays a greater role, since BPM often involves staff from multiple divisions throughout the company, often at different locations, or even in different countries. The SaaS model inherently promotes this type of collaborative input.
Lastly, the implementation cycle is naturally much faster. While a complete business performance management system may take several months, or even a year, to implement fully, it is possible to get up and running with a SaaS version in a matter of just a few days.
For detailed information on leading BPM systems check out our Top 10 Business Performance Management Software report.