Business Performance Management for SMBs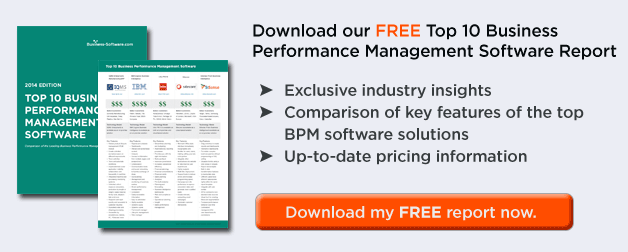 BPM Vendors Notice the SMB Market
Larger, enterprise-focused vendors are now starting to see an opportunity in bringing enterprise functionality to the small and mid-sized market (SMB), and have started to deliver SMB versions of their well-established enterprise business performance management suites. The advantage of these business performance management suites from these particular vendors is one of experience.
Although the SMB market may be new, the field of BPM is not new, and this type of company will bring a great deal of experience to the table. Traditionally an enterprise vendor, Oracle now addresses the midmarket. While its Hyperion BPM product line is still better suited to larger enterprises, Oracle Business Intelligence Standard Edition One delivers business intelligence features to midsized organizations. SAP also offers midmarket solutions including SAP Business One, and SAP BusinessObjects Edge for business intelligence reporting.
On the other hand, there are several start-up BPM companies that address the SMB market from the ground up, and this too may have advantages for the smaller company. These types of newer firms may lack what the veterans have in experience, but they make up for it in flexibility and responsiveness. One such company is Infor, whose Infor PM 10 specifically caters to the needs of SMB customers, while delivering high-end BPM budgeting and planning processes. Similarly, Lumensoft's Xcel BI+ SMB takes the small business Excel approach and extends it with complete Excel integration and a rich set of capabilities.
The Price Factor
At the enterprise level, business performance management is an expensive strategy, and a successful implementation may take several months and cost hundreds of thousands of dollars. A smaller business may not have the luxury of taking that much time or spending that much money. Fortunately, vendors have taken that into account. While it is still by no means a trivial purchase, pricing may be more aggressive for these SMB offerings. An incremental approach, where BPM services are added as individual components, may also help to mitigate some of the cost concerns.
What the SMB Really Needs
In reality, smaller businesses need many of the same functions and features of the enterprise. Until now, they just weren't able to get those features because of budget and staff limitations.
The finance department of an SMB, particularly one that is bound by compliance regulations, will still need to have financial reporting, which often must be highly detailed and provided on a regular basis in specific formats. Trying to meet these compliance needs without a formalized reporting tool is difficult at best, and may result in inadequate reporting, or even fines. Some smaller organizations may attempt to do this financial reporting with simple spreadsheets, which do offer some limited forecasting and what-if analysis tools, but fall short when it comes to the in-depth vision needed.
SMBs today face many of the same challenges that larger enterprises do, and need strategic tools to be able to compete on a level playing field with their larger competitors. Business performance management for SMBs allows smaller companies to meet these strategic needs.