Choosing the Right Talent Management Software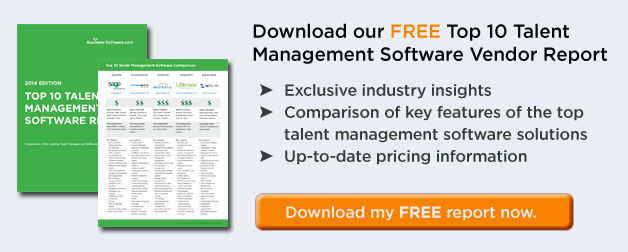 The need for a broad-reaching talent management plan continues to grow exponentially as companies experience higher attrition rates than ever before, as well as labor shortages, lack of vital skills, and other critical workforce issues. Talent management software solutions are helping organizations to bridge the gap between simply managing their employees and building strong, long-lasting, mutually beneficial relationships with them.
What to Look For When Choosing Talent Management Software
Few companies that embark on a talent management initiative know what to look for when researching and choosing supporting technologies and the vendors who provide them. The evaluation process becomes long and confusing, and the risk of selecting the wrong solution is quite high. While all talent management software offers tremendous value, there are some key characteristics that any company who is seriously considering the purchase of a talent management software should look for. These features include:
Ease of Use
Talent management is a complex discipline that combines a variety of critical human resources, employee relationship management, and supervisory functions. But as sophisticated and multi-faceted as talent management and its related processes may be, solutions that support these activities should be intuitive and easy-to-use. They must effectively streamline and simplify all the tasks involved in comprehensive talent management strategies, without features that are difficult to learn and navigate. Therefore, the solution you choose must be user-friendly, and require minimal training to get users up and running.
Integration
Talent management is not a stand-alone business discipline; it involves the coordination of a variety of processes that span multiple departments including human resources and senior management. Third parties, such as workforce planning consultants and personnel search firms, may also be involved in talent management initiatives. Therefore, the talent management software you choose should offer seamless integration to the various systems and applications that support related functions such as human capital management and payroll.
Additionally, although most talent management software provides comprehensive recruiting capabilities, many companies that are implementing them already have a recruiting software package in place. So the talent management software you purchase must be able to link directly to the existing recruiting application and offer unhindered bi-directional data sharing.
Best Practices
Few companies have existing talent management strategies in place, and some have tried to introduce the concept of talent management into their organizations, but have been less than successful. So they are relying on the solutions they purchase to help them structure and implement the kind of talent management processes and workflows that will maximize employee relationships and productivity. That's why it is critical to select talent management software that facilitates the implementation of best practices for all related functions including sourcing and recruiting; workforce planning; performance and compensation management; competency, knowledge, and skills management; leadership development; succession planning; and training and education.