Compliance Issues Solved with Business Performance Management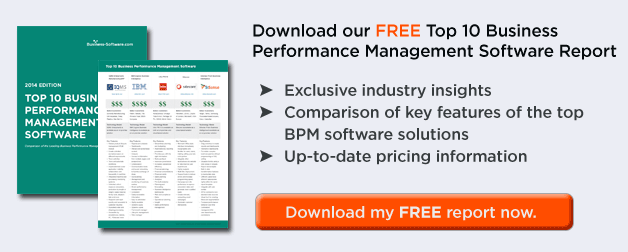 Meeting the Compliance Management Challenge
Business Performance Management (BPM) systems, as tools for measuring performance against specific goals, are broadly used in the enterprise. However, the use of BPM has gained traction as a tool for compliance management, especially in relation to Sarbanes-Oxley.
The reporting facilities included in BPM, as well as the ability to improve financial transparency and enhance vital business processes, has made this an invaluable technology for companies that are required by law to comply with this legislative mandates.
Sarbanes-Oxley and Compliance
Sarbanes-Oxley has had a major impact on financial reporting and the growing use of BPM as a compliance tool. Initiated in response to financial scandals in publicly-held companies, Sarbanes-Oxley requires a comprehensive technology to impose a new level of control and visibility over finances.
Sarbanes-Oxley requires the officers of publicly-traded companies to certify that their internal controls are effective and financial information is accurate. This calls for an "internal control report" to be included in the annual report, which includes an assessment of the effectiveness of internal controls regarding financial reporting. Compliance is reinforced by a requirement that the CEO or CFO must personally attest to the integrity of financial statements. Inaccurate financial reporting may result in criminal penalties lodged against the reporting officer.
A Cost and An Opportunity
Sarbanes-Oxley compliance can be a costly proposition. However, it also creates an opportunity, and if correctly implemented, the BPM solution deployed as a compliance solution can also lead to other internal transformations including streamlining of business processes, greater visibility throughout the enterprise, and new levels of efficiency and productivity.
The BPM solution goes beyond compliance reporting to help management gain greater insights into their business processes, and may allow management to improve the overall quality of corporate intelligence, and discover new opportunities for cost savings, growth, and increased levels of profitability.
Sarbanes-Oxley: More Than Just a Report
The BPM system not only ensures that financial data is accurate, it also delivers a new level of continuous monitoring—which is a key element of Sarbanes-Oxley. As such, there are different levels of Sarbanes-Oxley reporting available through most BPM offerings, starting with snapshot views of compliance, real-time reporting, and custom reports tailored to the needs of multiple users. Beyond the reporting features, BPM will help guide greater automation of business and financial processes, and promote the establishment of a single location for consistent financial data.
The resulting integration allows the enterprise to move away from old models of stovepiped data, and towards a new approach of integrated data that is easily accessible by those who need it, yet controlled with secure authentication and authorization techniques. This security allows for appropriate users, including auditors, to gain access to data on an as-needed and role-based basis, governed by rigorous security.
BPM may be seen as a cost center. However, proper implementation of a full-featured BPM system can generate a positive ROI and bring benefits to the corporation. Planning, budgeting, and strategic management can be improved through use of BPM. And the ability to achieve more predictable results is vitally important to a publicly-held company.