How Human Capital Management Minimizes Employee Turnover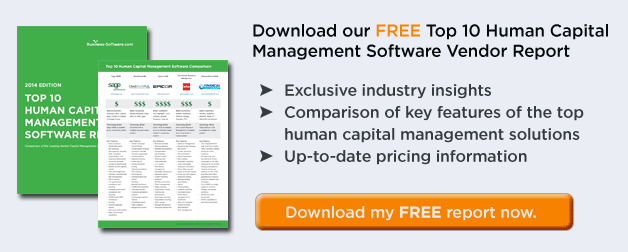 Stop the Revolving Door: Minimize Employee Turnover with a Human Capital Management System
Employee attrition is a major problem for today's organizations, one that is placing a huge strain on both financial and HR resources. That's why human capital management solutions are being implemented at a rapid pace to help organizations improve their employee satisfaction levels and reduce turnover rates.
Recent studies have shown that the cost of replacing a manager or professional-level worker can be as high as 18 months of salary, while the expenses associated with replacing an hourly laborer can reach up to six months of salary. Additionally, there are numerous non-financial costs that go hand-in-hand with poor levels of worker retention such as low corporate morale, loss of productivity, negative corporate image, and the risk of filling the open position with a less-than-qualified candidate.
A human capital management application is designed to improve the way employees are managed throughout their lifecycle – from the time they are hired, until they leave the company. This, in turn, can help companies build stronger, longer-lasting relationships with their workforce, boosting job satisfaction and loyalty in several ways.
For example, a human capital management solution can provide senior executives and HR professionals with greater insight into the trends that are positively and negatively impacting employee retention. Why are employees leaving the company? What are they most dissatisfied with when it comes to their jobs? What can be done to create a better working environment? Are the salaries and benefits being offered in line with industry standards? Armed with this intelligence, management and HR can develop more successful retention strategies and avoid the costs associated with high attrition.
A human capital management system also makes the performance evaluation process far more open and collaborative. Without one, evaluations are completed on paper forms by supervisors, signed by the worker, and placed in the employee's file for future reference. This is particularly detrimental in cases of poor evaluations, where the worker has little choice but to accept the appraisal "as is." However, human capital management includes features that facilitate feedback from both the staff member, and their manager during the evaluation process. So employees can share their thoughts about why they may be under-performing and take part in the creation of steps to help them bring their performance up to acceptable levels.
Human capital management also eliminates the gaps between corporate strategies and individual employee needs. Many organizations operate in a "vacuum," setting broad-reaching objectives, with little thought as to how they will impact staff members. With the workforce planning capabilities of human capital management solutions, companies can give their workers an opportunity to learn and grow, in a manner that will help achieve corporate goals.
And, with human capital management in place, companies can make smarter hiring decisions. By more effectively matching a candidate's skills and background with open positions, companies can prevent the kind of on-the-job frustration and low morale that under-qualified staff members are likely to feel.