How Mobile CRM Benefits Field Service and Support Staff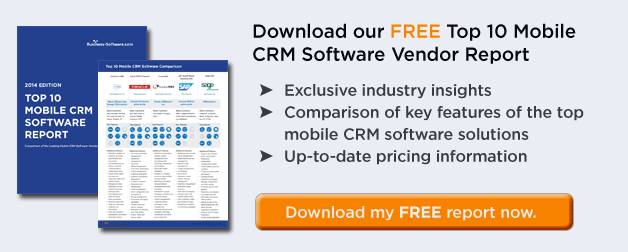 Customer Service and Support Staff Take CRM on the Road with Mobile CRM Solutions
Technicians, on-site support staff, and other field workers have one key goal – to accurately diagnose and resolve customer problems as rapidly as possible. Yet few have access to the complete, timely information needed to do so, and as a result, it is much harder for them to make informed decisions while at a client site. That's why more and more businesses are turning to mobile CRM to better support field service operations.
In fact, according to leading industry analyst firm Gartner, mobile CRM solutions, when applied to field service management, can deliver tremendous value. Vice President William Clark has even claimed, "I've seen annualized ROIs of 100% to 500%."
Field service professionals need to stay connected to vital customer information at all times, even when they travel, in order to properly service clients. Previous conversations with the help desk, prior service calls, past product issues, warranty information, and other data can make it easier for them to ensure a superior experience by providing customers with exactly what they need.
With mobile CRM, field service agents can obtain and review this information – any time, anywhere – via cell phones, PDAs like Blackberry and Windows Pocket PC, wireless laptops, and other handheld devices.
Other ways in which mobile CRM can help enhance field service staff productivity include:
Improved schedule management, so support staff can better coordinate and manage their time spent en route to client sites, during service calls, at follow up visits, and other activities. Many mobile CRM solutions even allow supervisors to view the calendars of their staff members and add in new appointments, reschedule existing ones, and alert workers of the changes, as needed.
More effective job execution through the ability to access the details and specific tasks required for each service order.
Accelerated issue identification and correction through a more complete understanding of customer service and issue histories.
Enhanced inventory tracking, so field reps can see, in real time, if the spare parts they need for upcoming service appointments are available in stock.
Instantaneous information updates, so support staff can immediately adjust the status of open job tickets, as soon as their work is complete. This feature of mobile CRM allows sales reps, account managers, and other stakeholders to stay fully aware of the problems uncovered, as well as the outcomes of service calls, as they happen.
More accurate tracking of expenses, such as travel and parts, so all relevant costs are billed back to the customer.
Bi-direction communication with peers, so field support team members can share tips and techniques while they're on the road. For example, a technician who uncovers a problem they've never seen before can ask for advice and guidance from colleagues who have worked on similar issues in the past.
By utilizing mobile CRM to make field service and support teams more effective, customers will be more likely to renew maintenance contracts, perform paid upgrades, and purchase additional products or services in the future.