Improving Customer Satisfaction with Mobile CRM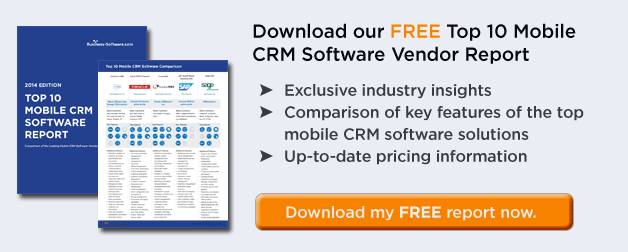 As churn rates rise sharply and competition becomes increasingly aggressive in all industries, companies are striving to embrace a more customer-centric focus. The key to adopting a more customer-oriented approach is through the open access and unhindered sharing of vital client-related data among all customer-facing personnel. But, without a mobile CRM solution in place, this can be a difficult feat to accomplish.
In most companies today, a high number of employees in customer-facing roles are frequently out of the office. Sales reps travel from one client to another, field support staff members spend most of their time performing on-site service calls, and marketing teams attend a variety of trade shows and other industry events. Because of this trend, mobile CRM software can contribute significantly to the achievement of higher levels of customer satisfaction and retention. By empowering remote and "on the go" staff members to maintain fast and easy access to vital, timely customer information through their cell phones, PDAs, Internet-enabled laptops, and other wireless handheld devices, they can better sell to, service, and support the existing client base.
Mobile CRM Enables Smarter, More Successful Sales Efforts
Mobile CRM applications allow sales reps to "do their homework" on the way to a client meeting. By reviewing and analyzing customer histories – such as what products have already been purchased, and which ones the customer has expressed an interest in through responses to campaigns and promotions – they can better structure their pitches and improve up-sell/cross-sell success. This in turn will minimize client defection by eliminating the chances that customers will purchase complimentary products and services from competing companies.
Mobile CRM Accelerates Problem Resolution
Nothing negatively impacts client satisfaction more than products that break down frequently, or don't work at all. That's why it is critical for issues to be diagnosed and resolved as quickly as possible. With a mobile CRM solution, field service and support staff can access service and help desk histories, gather real-time tips and advice from peers and colleagues, and check the availability of needed inventory of spare parts and other components. This facilitates more rapid issue identification and correction, before loyalty is hindered and customers take their business elsewhere.
Mobile CRM Provides More Informed Interactions
Customers communicate with the companies they do business with through multiple channels – contact centers, service and help desk teams, and sales and marketing personnel. So, it's important that the details of these discussions be shared among the various groups.
By allowing traveling staff members to provide updates on their activities to other customer-facing personnel, and immediately receive new information as others correspond directly with clients, mobile CRM solutions enable truly customer-focused collaboration. As a result, everyone who sells to or supports a client has instant access to all the data they need to answer questions, solve problems, address issues, and build strong, long-lasting relationships.