Key Features of Manufacturing ERP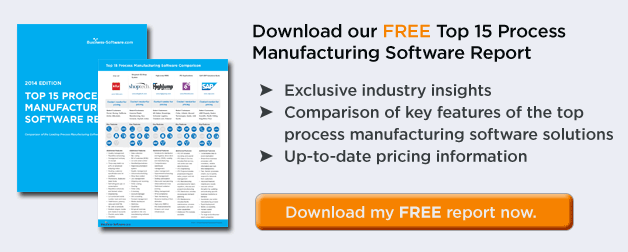 Manufacturing ERP systems deliver a broad range of features and functionality to improve all facets of production. This article provides an overview of the key capabilities of today's most popular manufacturing ERP solutions.
Manufacturing ERP Features That Provide a Competitive Edge
Manufacturers of all sizes and across all segments rely on manufacturing ERP software systems to streamline production and all associated operations, dramatically improving the way they design, build, store, test, sell, and distribute their products. How do today's manufacturing ERP systems empower companies to achieve greater efficiency and cost-effectiveness than ever before? With robust features and functionality to support such vital operations as:
Engineering and Material Requirements Planning
Manufacturing ERP systems significantly enhance all design-related activities, including engineering task management, blueprint drafting and drawing, configuration, bill of materials generation, and change control. This helps ensure that the plans and instructions the shop floor receives – and relies on to build products exactly to specifications – are as thorough, detailed, and accurate as possible.
Demand Planning and Forecasting
The ability to keep on top of anticipated demand and ensure there is enough supply to satisfy customer needs is a key advantage provided by today's manufacturing ERP software packages. Companies can better forecast orders and set production schedules accordingly to meet sales requirements, minimize excess inventory, and eliminate waste.
Purchasing
With a manufacturing ERP solution in place, companies can reduce costs by achieving economies of scale for all parts and components required for production. Additionally, they can more effectively satisfy demand by improving the way they source, track, and manage orders from the various vendors and suppliers they deal with.
Production
All operations involved in the actual building of a product are accelerated and improved with a manufacturing ERP system. For example, schedules can more efficiently set to ensure the correct staffing and output levels, production activities can analyzed and adjusted as needed to optimize efficiency, and problems and slowdowns in assembly lines can be immediately uncovered and addressed.
Quality Control
With a manufacturing ERP system software in place, companies can gain full insight into quality control procedures, and monitor – in real-time – the defects, returns, and other product issues that can negatively impact customer satisfaction and retention, so recurring problems can be identified instantly and flawed product designs or production tasks can be corrected before they hinder sales and result in lost business and revenues.
Inventory Management
Manufacturing ERP solutions make it easier for organizations to manage all facets of inventory, including the components used in the production process, as well as the finished goods awaiting sale and/or shipment. With manufacturing ERP software, inventory can be more effectively allocated, stored, and tracked from end-to-end.
Discrete vs. Process
Since their procedures and activities vary so greatly, many manufacturing ERP vendors offer separate applications for discrete manufacturing, in which companies build various products based on orders, and process manufacturing, where the products created are undifferentiated, such as oil, salt, chemicals, etc.
With manufacturing ERP solutions, companies can clearly gain a solid edge – even in very competitive markets – by leveraging advanced technology tools to deliver the highest quality products at the lowest possible costs in the timeliest manner.