Key Features of Mobile CRM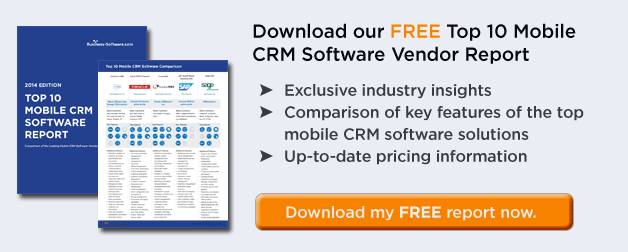 Mobile CRM solutions help field workers maintain access to and interaction with enterprise data, no matter where they are. This article highlights the key capabilities of mobile CRM.
The Advanced Functionality of Today's Mobile CRM Software
A mobile CRM solution is a powerful, feature-rich technology tool that keeps field-based personnel, such as sales reps and service technicians, fully connected to enterprise data sources, even when they're on the road. Some of the key capabilities of today's most popular mobile CRM software solutions include:
Support for a Variety of Devices
Mobile CRM solutions enable fast and convenient data access through virtually any handheld device. This includes smartphones, tablets, and of course your desktop or laptop.
Data Aggregation
With a mobile CRM solution, sales reps and field support staff can access data contained not only in customer relationship management systems, but in any other source that contains client-related information, such as accounting and help desk applications. This provides the most complete picture of customer activities at all times.
Complete Contact Management
A mobile CRM software package provides end-to-end management of all clients, prospects, and other contacts. Additionally, users can efficiently organize related opportunities, meetings, calls, and other activities, for comprehensive contact history tracking.
Activity Logging
During the course of remote meetings and discussions, events occur that need to be shared with other stakeholders within the organization. For example, a potential client may request that a product be customized to meet a unique need, and you'd need to alter your manufacturing team. Along a similar vein, an existing customer may mention a recurring technical problem during a routine meeting, which you'd need to communicate to the appropriate support and service teams. With a mobile CRM solution, these types of events can be gathered, documented, and shared with others, as well as be stored for future reference for retrieval when needed.
Calendar and Schedule Management
Traveling staff members are often quite busy and have a hard time keeping up with their dynamic and frequently-changing schedules. That's why mobile CRM solutions provide comprehensive features for more effectively coordinating and managing their calendars.
Automated Order Processing
Sales reps often travel from one customer site to the next, with few stops to home base in between. Through mobile CRM software, they can automatically create, process, and route the sales orders they receive to ensure rapid fulfillment, even if they're not in the office.
Job Ticket Tracking
Field service reps need to keep others informed of the work they've completed and the status of the jobs they've been assigned. With mobile CRM, they can use their handheld devices to enter the outcomes of their service calls into the centralized database or track the status of other open tickets they've been involved in.
Data Synchronization
In some locations, wireless connections are hard to establish, yet field workers may need to access and review a specific data set or make changes or updates to information based on their recent activities. Mobile CRM allows users to work offline, then automatically synchronizes data bi-directionally once a connection has been re-established.
With a mobile CRM application in place, on the go and remote workers can access vital corporate information, anytime, anywhere, directly from their handheld devices, making for vastly more productive and efficient business processes.