Pay-per-click PPC Management Software Key Features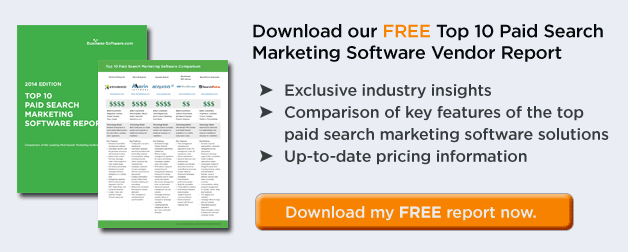 Pay-per-click (PPC) Management software helps you get the greatest value out of your PPC campaigns. Marketers that use search marketing software can more easily manage campaigns across multiple search engines, optimize bidding on every keyword, and implement sophisticated bidding strategies. Search marketing software offers a broad range of functionality that supports a wide-range of advertiser's goals. Identify your requirements and find a package that most closely matches your needs.
Most PPC management software solutions provide the following features as part of the standard package:
Automatic Bid Management
Bid management software simplifies the keyword bidding process, enabling you to get the best results possible from your paid search campaign. It can help you minimize mistakes and ensure that you stay in the bidding range you want without exceeding your marketing budget.
There are a variety of strategies for bid optimization, and sophisticated PPC management software packages will let you pick the ones that best suite your needs. These programs let you set up rules for each keyword or ad group that guide the bidding using sophisticated algorithms. Some common PPC management software features include:
Automated bidding
Budget management
Gap management
Bidding wars
Best value
Bid jamming
Target CPA
Traffic
Rank maintenance
Manual bidding
Dayparting
Geo targeting
Consolidated Control
The search engines supply you with a number of tools to manage and optimize your campaigns on their networks, but if you want to expand to another search engine, you work with another system.
One of the main features of PPC management software is consolidated control over campaigns that span multiple search engines. For example, you would be able to manage your Google and Yahoo campaigns from the same interface. Not all PPC management software packages support all search engines. While they all cover the major engines, you need to carefully check to see if your favorite second-tier search engine is covered. Centralized performance reports at the keyword, campaign, and search engine level help you measure your performance.
Conversion tracking
Most PPC advertisers track their conversions from within the search engine interface. Not all PPC management software packages allow this. Double-check that the PPC management software package you purchase also allows conversion tracking (not just bidding and click-through rates). While tracking click-through rates helps you improve your ad copy, it is conversion tracking that determines your campaign profitability. You're able to see exactly which keywords result in sales.
Ad Creation and Editing
Most PPC management software packages contain some type of ad creation and editing, although not all packages have everything. If you change you ads frequently, make sure you find a PPC management software package that supports your requirements. Ad creation and editing features can include: ad text copy, landing page optimization, bulk sheet updates, and banner ad optimization.
Looking for more information about leading PPC marketing platforms and tips to help your business get the most out of its PPC management software? Browse the Business-Software.com Marketing Research Center and check out our full array of PPC marketing blog posts.