The Virtual Contact Center of the Future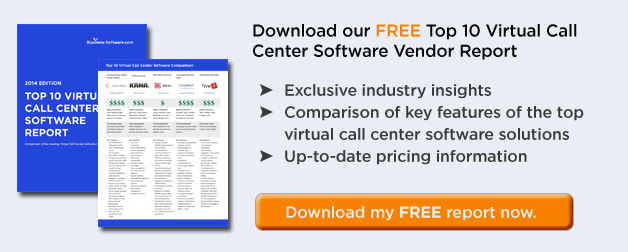 Rows upon rows of headset-wearing representatives chatting away with callers. Managers strolling from agent to agent, listening to bits and pieces of each call in progress. The sound of phones ringing vigorously in the background. For companies who have moved to a virtual contact center model, this scenario is a thing of the past.
Yet for the many organizations who have taken the leap into the world of virtual contact centers (more than 54 percent of best-in-class companies, according to a recent report by analyst firm Aberdeen Research), the transition has been slow-going. Most have started by selecting a small group of in-house agents, setting them up in home offices, and having them handle non-critical interactions, like billing and order status queries, simple troubleshooting, and requests for basic information.
But as virtual contact centers continue to demonstrate their worth, the way they are set up and managed will evolve, and companies will rely more and more on this approach for the majority of their mission-critical contact center operations.
So, what will the virtual contact center of the future look like?
Tomorrow's virtual contact center will consist of numerous groups of agents – some working from home, some residing in branch offices, and others employed through contracts with third-party call center service providers. In fact, many experts believe that in the coming years some of the larger virtual contact centers will be operating out of as many as several hundred unique locations. Staff will be segmented into teams, each specializing in a specific communication channel (email, IM/chat, phone, etc.), type of interaction (help desk, billing and accounting, sales and order taking, etc.), or line of business.
And, many virtual contact centers will have found innovative new ways to break down the barriers that can hinder global-scale service activities, such as time zones, multiple languages, country-specific laws and regulations, and cultural differences. To address these issues, most internationally-run organizations will have at least a small group of virtual agents operating out of every geographic area in which they do business.
Additionally, the technologies these virtual contact centers rely on to run efficiently will become increasingly sophisticated. A variety of integrated call center software tools like quality monitoring, e-learning, call routing, workforce management, and speech analytics will be employed to:
Dynamically connect the right callers to the right agents
Enable managers to continuously evaluate and improve agent performance
Offer insight into operational efficiency
Identify process breakdowns and areas in need of improvement
Improve agent utilization and effectiveness
Ensure quality and consistency across all interactions
Today, there are approximately 100,000 virtual contact center agents working in the United States, according to industry estimates. Leading analysts and call center pundits expect that number to increase ten-fold over the next several years, as companies become more comfortable with the virtual contact center model.