Top 5 ERP CRM Providers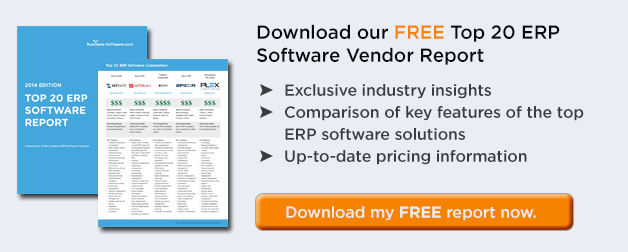 Enterprise resource planning (ERP) solutions are designed to improve key back office business activities such as human resources, finance and accounting, and supply chain management. Customer relationship management (CRM) applications, on the other hand, were created to enhance front-office functions including sales, marketing, and service and support.
So, it's only logical that the major ERP vendors, in an effort to further extend the value of their suites and deliver a positive impact on operations across an entire company, would make the move into the CRM market. As a result, a new host of ERP CRM solutions have been introduced over the last several years.
So, who are the most popular providers of ERP CRM packages?
SAP
Founded in 1972, SAP is considered the pioneer of ERP. With close to 40,000 employees serving 38,000 customers across the globe, SAP has been commanding a huge chunk of market share since ERP solutions first came to prominence. The company's ERP CRM suite rounds out its broad portfolio of business applications, enabling companies to truly improve every single aspect of their operations.
SAP's ERP CRM suite has also received numerous industry accolades and was recently named a market leader by analyst firm Forrester Research.
Oracle
Oracle was founded more than 30 years ago and has been providing innovative business software solutions ever since. In recent years, the software giant has extended its portfolio of ERP solutions through the acquisition of companies such as PeopleSoft, Siebel, and JD Edwards. These mergers, as well as Oracle's take-over of Telephony@Work, a leading call center solutions provider, have given the company a solid edge – and a broad portfolio of offerings – in the ERP CRM market.
Today, the Oracle ERP CRM solutions are used by over 4.6 million end users across a variety of industry sectors. Additionally, a recent Gartner study shows that Oracle's ERP CRM applications were used in 60% of all CRM implementations in recent years.
NetSuite
Since 1998, NetSuite has been a leader in providing fully integrated enterprise-quality technology solutions to small and mid-sized businesses. The NetSuite family of applications includes packages for accounting and ERP, CRM, and e-commerce. The company's ERP CRM offering, as well as its other solutions, is designed to provide powerful capabilities in an affordable, easy-to-use environment.
Forrester Research has given NetSuite's ERP CRM package high ratings, ranking it as the number one hosted solution for opportunity management, forecasting, sales management, dashboards, product catalogs, activity management, and document management.
Epicor
Founded in 1984, Epicor is an up-and-coming player in the ERP CRM space. Recently named in Fortune Magazine's 100 Fastest Growing Companies list, the company offers a broad range of ERP, CRM, and professional services automation (PSA) solutions to mid-market businesses around the globe.
Infor
More than 70,000 companies rely on Infor solutions to meet their most complex needs. Infor's suite of solutions includes ERP, CRM, enterprise asset management, product lifecycle management, and performance management. The company is a proven leader in the business software field, ranking as the 10th largest software provider in the world with over 8,000 employees and $2.1 billion in annual revenues.