Using Call Center Software to Enable the Virtual Contact Center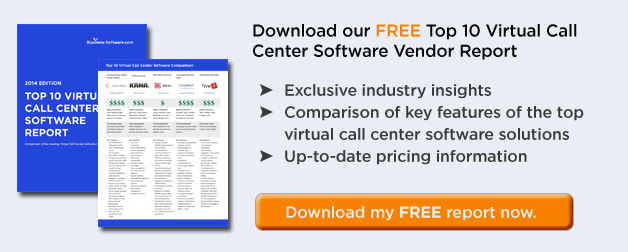 Virtual call centers are the wave of the future, providing companies with greater continuity of service, while reducing real estate and overhead costs. There are a variety of call center software solutions on the market today that enable companies to seamlessly make the move from a traditional call center model, where all agents reside in a single location, to a virtual one, where representatives work out of separate remote branches, or even at home offices.
A call center software package can help facilitate operations within the virtual contact center with a fully-centralized infrastructure that makes all features and capabilities easily accessible via the Web. So any agent, anywhere can perform as though they were all at the same physical location.
Call center software provides the following capabilities that can enhance virtual contact center activities:
Complete Agent Monitoring
The virtual contact center model makes it difficult for managers to continuously review and assess a remote agent's performance. But with call center software and its call monitoring capabilities, supervisors and team leaders can record the interactions of off-site agents and listen to them "live," or at a later date. This enables more efficient evaluation of agent performance, so managers can ensure that all employees – even those in home offices – are servicing customers to the best of their abilities.
A Centralized Knowledge Base
A call center software application can provide a centralized knowledge base that includes all the information an agent needs to answer questions, resolve problems, provide information, engage in up-sell and cross-sell initiatives, and more. By making this knowledge base readily accessible via the Web, representatives across an entire virtual contact center can most effectively handle customer calls.
Reduced Call Handling Fees
Many virtual contact centers operate on a global scale, with agents in other countries fielding calls at "off hours" for US locations. A call center software solution that is VoIP-based can allow international call center agents to make phone calls within the United States – dramatically minimizing toll expenses.
Greater Scripting Control
Because many call center agents lack extensive sales skills, some businesses choose to outsource their outbound, sales-oriented phone outreach as part of their virtual contact center strategy. That's why many contact center software solutions offer scripting functionality, which guides agents – regardless of their location – through a call. This helps ensure that even remote representatives properly convey campaigns and promotions to potential clients.
Intelligent Routing
When the call center and its operations are dispersed, as they are in a virtual contact center model, the ability to route calls as intelligently as possible is critical to achieving optimum efficiency. Many call center software solutions can dynamically route calls to remote agents based on several factors, including agent availability or skill set. This becomes particularly important with virtual contact center operations that are conducted on a global scale, since calls can be automatically routed to agents in appropriate time zones.