ALM Software: What it is and Why it Matters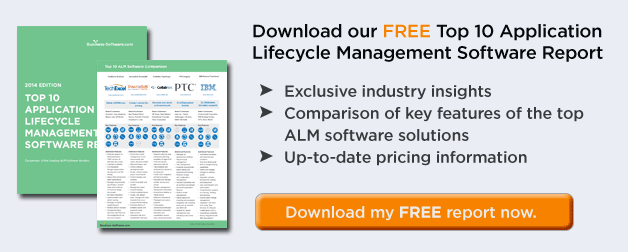 An application lifecycle management software system is a suite of robust, feature-rich technology tools that can serve as a valuable asset to any organization with development-intensive operations. With these powerful solutions, companies that design and develop software as a core competency can ensure that the applications they create will most effectively address customer needs, support new internal business initiatives, or enable the achievement of other mission-critical goals and objectives.
But, what exactly is application lifecycle management software and what challenges does it help to solve?
The process of software development is a highly complex and multi-faceted one, even for the most experienced engineering and IT teams. In order to be successful, companies that design and build software applications for sale to customers and other third-parties, or those that create proprietary software solutions in-house to address their own unique business needs, must effectively plan, schedule, execute, and track a high volume of closely related and inter-dependent activities. At the same time, they must allocate, coordinate, and manage various technology resources, as well as oversee staff members who often possess different skills, utilize different tools, have different goals and priorities, and are located at disparate sites. And, they must do all this within the confines of tight schedules and deadlines, and even tighter budgets.
Before application lifecycle management software became available, these organizations were forced to rely on emails, spreadsheets, Access databases, and other cumbersome, error-prone, and inefficient manual methods to manage the various activities and resources involved in each development project. This made related information inaccurate and difficult to share, which hindered communication and collaboration, delayed time-to-market, increased overhead expenses, and negatively impacted software quality.
On the other hand, an application lifecycle management software system can streamline, automate, and enhance all facets of software development, including requirements definition, workflow structuring and tracking, solution modeling and design, code writing and programming, change and release management, and testing and quality assurance. With application lifecycle management software, companies can more effectively manage, control, and monitor the way their software programs are built, implemented, and used, as well as the techniques used to evolve and adapt them over time. This empowers them with the agility they need to instantly respond to changing customer demands, or address emerging business needs, as soon as they occur.
Since its introduction, application lifecycle management software has been continuously expanded to address increasingly sophisticated needs. Early offerings provided little more than simple project management and basic task automation capabilities. However, the features of today's application lifecycle management software solutions are broad and wide-reaching. Most of the available packages on the market include capabilities that support virtually every phase of a software development project, as well as ongoing monitoring and real-time reporting to keep everyone informed of statuses at all times. Additionally, many application lifecycle management software vendors offer advanced functions to support applications with numerous configurations, fully automate routing or repetitive build processes, and even control deployment and administration.