What Is Email Security Software?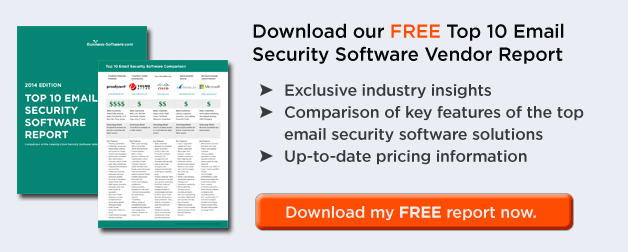 Protect Your Company Communications with Email Security Software
The market for email security software is booming, as more and more companies purchase and implement these powerful solutions to secure their most vital communications. In fact, worldwide revenues from email security software reached over $3.5 billion in 2006, and are expected to surpass $6 billion by 2010, according to a new study by industry consultants the Radicati Group. And, Gartner Group states that email security software currently accounts for more than 7.1 percent of the total security software industry.
What are the reasons behind this explosive growth? Email platforms have become the primary form of outreach for companies across all industry sectors, due to their speed, efficiency, reliability, and cost-effectiveness. As these organizations have expanded their operations globally and set up remote offices in disparate locations around the world, email has emerged as the most widely used Internet application, providing a fast and effective way for employees, customers, and external business partners to stay connected and collaborate.
But, as the prevalence of email-based threats such as viruses, spam, and data theft continues to rise, the need for companies to have an email security system in place has become increasingly urgent. A recent report by leading analyst firm IDC claims that viruses, worms, and spam are considered to be the largest security risks to today's businesses. These threats have the potential to cost millions upon millions of dollars in equipment replacement and productivity slowdowns. Additionally, companies who fall victim to email security risks face immeasurable losses when it comes to having vital business files and data fall into the wrong hands, or become irreparably corrupted.
That's where email security software solutions come in. These robust technology tools are designed to preserve the integrity of bi-directional email correspondence, and offer full protection of the hardware and other infrastructure components that support email applications. With a broad range of features and capabilities that includes data encryption, virus and malware protection, spam and content filtering, archiving, compliance management, and support for AOL IM and other instant messaging applications, email security software systems provide end-to-end protection, detection, and control. As a result, they can help organizations to take a more proactive approach to identifying all related risks and safeguarding their email environments against them.
An email security software system will continuously monitor and govern both inbound and outbound messages to provide comprehensive protection from:
Viruses created and disseminated by malicious hackers.
Electronic files and attachments that have been unknowingly corrupted prior to distribution.
Spam and other unsolicited messages that can clog mail servers and delay the delivery of time-sensitive information.
Theft of confidential data, such as financial reports, customer contact information, product plans, etc.
Offensive content and images that are embedded in, or attached to email messages.
Spyware, malware, keystroke loggers, and other harmful programs.
Phishing emails that attempt to fraudulently "trick" recipients into divulging their private information such as credit card or bank account numbers.