What Is Enterprise CRM?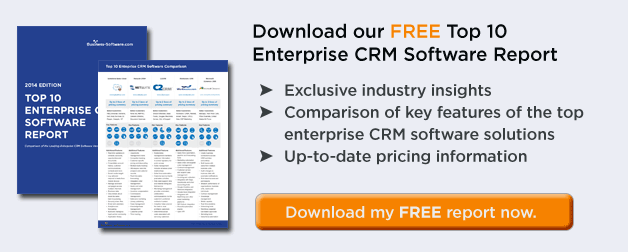 Enterprise CRM can be a vague and often confusing term for many CRM buyers. This article outlines the key differences between enterprise CRM, and other types of customer relationship management solutions.
Enterprise CRM is Designed for the Complexity of Large Organizations
Many of the leading CRM vendors offer "enterprise" editions of their software solutions. This can be quite confusing to most CRM buyers, who have no idea what enterprise CRM means, whether or not they need it, and what the benefits are.
To the inexperienced CRM user, the term enterprise CRM may seem like "marketing speak" for nothing more than a special pricing package designed for companies who are acquiring a high volume of end user licenses. But the fact is that enterprise CRM is actually quite different from other types of customer relationship management solutions.
Many smaller-scale CRM offerings are somewhat limited in scope, addressing the needs of sales reps with little more than simple contact management and calendaring/scheduling functionality. While this may work well for companies with sales teams that are made up of less than a dozen reps, it just isn't suited for sales operations that span multiple territories or product lines, or those that rely on numerous channels to bring their products and services to market.
Other customer relationship management applications are designed to be used primarily by sales and marketing organizations, to enhance the way campaigns, promotions, and other lead-generation activities are coordinated and executed, and to track viable opportunities as they advance throughout the various phases of the sales cycle.
This approach, however, will be largely ineffective for those organizations that have other departments that interact regularly with existing and potential clients, or companies who maintain multiple sales and marketing teams across separate business units. Without enterprise CRM in place, these customer relationship management environments will fail to make vital and timely client information available to all key stakeholders, and will be unable record, consolidate, and centralize the data associated with all actions taken on behalf of customers across the entire business.
So, just who is enterprise CRM really for?
For many larger organizations, customer-facing processes are much more complex and multi-faceted. Departments and staff members across the entire business are responsible for interacting with and servicing both existing and potential clients. This means that the CRM system they select and implement must automate and support all the tasks performed by these employees, track activity histories from end to end, and make that information readily available to other customer-facing personnel across the business.
That's exactly what an enterprise CRM solution does. It coordinates all the cross-functional processes that impact sales to and service of customers, and facilitates collaboration and information sharing among all those employees that work directly with prospects and clients – not just sales and marketing staff, but help desk teams, accounting personnel, call center representatives, and others. Additionally, with enterprise CRM, that type of communication and coordination extends beyond company walls, allowing third-party sales channel partners and other external customer-facing constituents to leverage all the benefits that the CRM system has to offer.
But, perhaps most importantly, enterprise CRM centralizes accurate, real-time customer information. This allows everyone in a customer-facing role to gain insight into client behaviors, and understand their needs and interests. As a result, interactions will be more informed and intelligent, and the customer experience will be improved, regardless of the touch point.