What Is Supply Chain Management?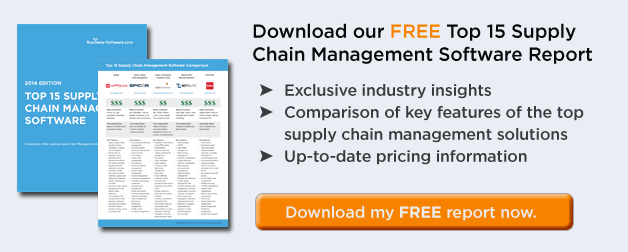 Since there are often many third-parties involved throughout the end-to-end supply chain, SCM software is designed to enhance communication, collaboration, and coordination with vendors and suppliers, transportation and shipping companies, intermediaries, and other partners by enabling faster bi-directional information sharing.
Key Benefits for Your Company
With a supply chain management software in place, a business can:
More effectively manage its entire network by overseeing all activities across all suppliers, production plants, and storage and distribution facilities.
Streamline and centralize their distribution strategy, to eliminate the logistical errors and lack of coordination that can lead to delays.
Increase visibility and enhance collaboration across the entire supply chain by sharing valuable information such as demand trend reports, forecasts, inventory levels, and transportation plans with suppliers and other partners.
Minimize storage costs and improve cash flow by better managing inventory levels.
Improve logistics tracking, to correct break-downs, inefficiencies, or problems in the supply chain before they become unmanageable.
A recent benchmarking study by AMR Research demonstrates that companies with better demand forecasting accuracy (something that can be easily achieved with SCM software) can reduce unneeded inventory by as much as 15%, improve perfect order ratings, and shorten cash-to-cash cycles by 35%.
Does My Company Need Supply Chain Management?
Supply chains are becoming more and more complex, and as a result, companies find them increasingly challenging to manage. Any manufacturer with a multi-faceted supply chain can realize dramatic benefits from SCM software, which can facilitate smoother, more efficient, and more timely execution of supply chain activities by connecting all vendors and other partners into one cohesive, cooperative network.
But, SCM isn't just for factories and production plants anymore. Retailers across the globe are also putting SCM applications to good use, boosting supply chain efficiency and gaining greater visibility into their distribution networks and inventory levels across stores and outlets. Additionally, many types of service providers today maintain sophisticated delivery channels that include numerous partners. Businesses like these can also achieve significant return on investment from the use of SCM software.
Common Supply Chain Management Features
The SCM softwares on the market today offer a comprehensive suite of modules and features to support end-to-end supply chain processes, including:
Inventory management to ensure optimum stock levels of components for production plants, finished goods for customers, and spare parts for field service technicians (if applicable), while minimizing related storage costs.
Order management that includes automated order entry, dynamic supplier scheduling, and pricing and product configuration to accelerate the order-to-delivery cycle.
Procurement to streamline all sourcing, purchasing, and payables across the entire supplier network.
Logistics to enhance the way warehouses are managed and transportation channels are coordinated, so on-time delivery performance can be dramatically improved.
Supply chain planning to improve all related operations by enabling accurate demand forecasting, improving order promising, and eliminating manufacturing over-runs.
Return management to accelerate the inspection and handling of defected goods, and automate the processing of claims with suppliers and insurance companies.
Incentive management to help companies better manage vendor negotiations, discounts, incentive plans, and commissions.
Some SCM offerings on the market today also include capabilities for contract management, product lifecycle management, and asset management.
What to Look for When Choosing a Supply Chain Management Software
Because truly effective supply chain management requires rapid, unhindered information sharing both inside and outside a company, integration is the most important feature of any SCM software package. Choose a software with an open data model, so data can be dynamically shared with other back-end softwares across the business, as well as with the softwares of suppliers, manufacturers, and customers across multiple sites and locations.
Additionally, there are many emerging technologies that will have a significant impact on supply chain management in the near futures. These advanced softwares, which include such applications as radio frequency identification (RFID), are poised to transform the way supply chains across the globe are managed and controlled. Ask each vendor what their plans are for incorporating these technologies into their softwares as their use becomes more prevalent.