What to Look for When Choosing Enterprise CRM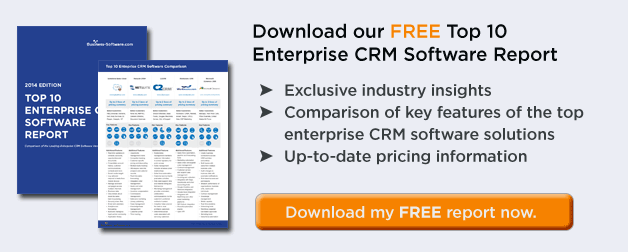 For businesses of all sizes, acquiring, retaining, and supporting customers is more challenging than ever before. Yet, for larger companies, that challenge can be even greater. Activities that were already complex have become highly-complicated, multi-faceted workflows and procedures that are difficult to coordinate, track and manage. Marketing teams must plan and develop an increasing number of sophisticated campaigns, and deliver them through multiple mediums. Sales reps must follow-up on hundreds of new leads, while juggling existing sales cycles. Support staff must rapidly resolve a growing volume of customer problems and issues. And, management must oversee customer-facing operations across all departments, and ensure that all client interactions are handled in a responsive and professional manner.
Enterprise customer relationship management (CRM) has emerged as way for larger businesses to streamline customer-related processes across divisions, increase the efficiency and effectiveness of customer transactions at all levels, and optimize service quality at each touch-point. Unlike smaller CRM solutions that focus on productivity enhancements at the departmental level, enterprise CRM helps companies plan and execute successful customer strategies across their entire business.
Four Must-Have Features for Enterprise CRM
An enterprise customer relationship management (CRM) solution is designed to enhance customer-facing operations for those companies with complex, multi-faceted processes for selling to and supporting existing and potential clients. With enterprise CRM, organizations can improve the customer experience across all touch points by streamlining and coordinating key activities between multiple departments and business units, and making accurate and timely customer information readily available to anyone who interacts with clients on a regular basis.
There are many different vendors who offer enterprise CRM applications, which makes it difficult for buyers to determine which one is the best. Below is a list of key features and capabilities to look for when choosing an enterprise CRM package.
Integration
In order for an enterprise CRM strategy to be truly effective, the solution selected must be able to facilitate rapid information-sharing with other systems that house client data, such as applications that support accounting, help desk, field service, and other functions. Therefore, be sure to look for a vendor who provides deep integration capabilities, so the enterprise CRM solution can be directly linked to other databases across the business.
Security
Many enterprise CRM initiatives aim to make customer information readily available to external constituents, such as third-party sales channel partners or distributors. Additionally, because they often support large and distributed sales organizations, many enterprise CRM solutions provide remote access to the application through mobile devices such as Web-enabled cell phones, PDAs, and wireless laptops. As a result, security becomes a critical component of an enterprise CRM solution. Client information is highly confidential, particularly for those companies that maintain such data as credit cards, social security numbers, or bank account details. So, it is crucial to choose an enterprise CRM solution that leverages the latest advances in data security and protection, to preserve the integrity of client information at all times.
Ease of Use
Because enterprise CRM solutions typically have hundreds – or even thousands – of end users, they must have a simple and intuitive interface. Otherwise, roll out and training will be long and complex, and internal IT teams will be burdened with countless questions and issues as employees become familiar with the system. Additionally, an enterprise CRM solution with features that are difficult to navigate and use will likely lower user adoption rates, and cause the proliferation of outdated, silo'ed, and inaccurate customer information that is kept in spreadsheets or contact management packages on user desktops.
Flexibility
Larger organizations typically have procedures that are quite unique. Restructuring them to conform to the way an enterprise CRM system works would be nearly impossible, and may not be in the best interest of the business. The best enterprise CRM packages on the market are the ones that are flexible and fully customizable. So, the solution can be tailored or altered in numerous ways to fully support any customer-facing process, no matter how complex or "out of the ordinary" it may be.