What to Look for When Choosing Lead Management Software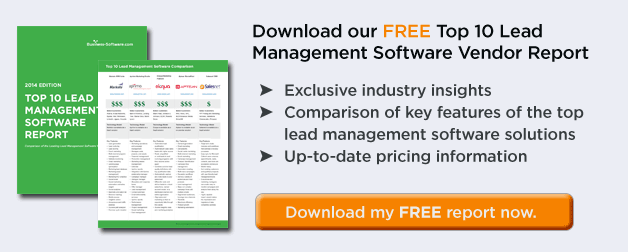 The Criteria that Matter When Selecting a Lead Management Software System
Lead management software solutions come in all shapes and sizes. And, while needs will vary greatly from one company to the next, there are certain key features that set the best solutions apart from the pack. It is these capabilities that companies should be looking for when evaluating lead management software vendors and their offerings.
Be sure to select a lead management software package with the following traits:
Strategic Alliances
While some lead management software applications do little more than organize the leads that a company generates through its own efforts, some can serve as a new source of untapped prospects. For example, many of the larger lead management software vendors have formed partnerships with renowned lead brokers and list aggregators. This extends promotional programs by allowing for the incorporation of updated, accurate, and fresh leads into the lead management database on a regular basis.
Support for Multiple Sales Channels
The direct sales-only model is a thing of the past. Companies across all industries are seeking new revenue streams through the use of alternate sales channels, such as eCommerce sites, resellers, and other sales partners. Additionally, many businesses – particularly those in the technology or industrial equipment industries – act as original equipment manufacturers (OEMs), selling their solutions directly to other vendors, who then bundle them with their own offerings.
For those organizations with sophisticated and complex sales models like these, a lead management software package must support the various channels through which they sell. For example, leads must be routed to the appropriate third parties. Additionally, those who manage these types of strategic sales partnerships must be able to track leads, in real-time, throughout all phases, from the time they are passed on to the third-party, until the entire sales cycle has run its course.
Best Practices
Lead management is about more than just technology, it is about processes and techniques that enable the most consistent and effective handling of sales opportunities possible. Some of the more robust lead management software packages give companies the ability to implement and enforce best practices. By providing them with vital intelligence into what works, what doesn't, and why, they can develop highly successful procedures for acquiring, qualifying, routing, and nurturing prospects.
Advanced Reporting and Analysis
Many lead management software solutions provide simple reports that allow sales and marketing professionals to track key metrics such as campaign conversion ratios, close rates, cost per lead, average length of sales cycle, and more. Yet, only the world-class lead management software offerings deliver in-depth ad-hoc analysis capabilities.
Why is this so important? Because, there are common factors that span both successful and unsuccessful deals. Additionally, there are actions that are effective, and those that are not. By analyzing activity histories and other important data, companies can fully understand what impacts their ability to win new business. This, in turn, will enable them to structure and continuously enhance their processes and programs to optimize revenues and market share.