Why You Need Lead Management Software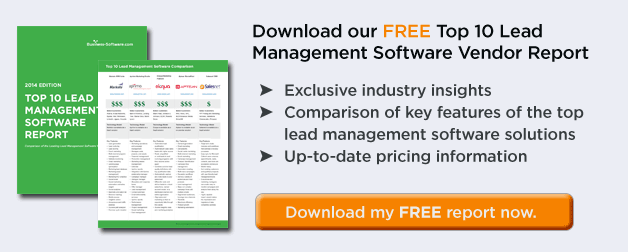 The Many Ways your Company Can Benefit from Lead Management Software
Leads are the lifeblood of an organization, and lead management software ensures that each and every one is leveraged to its fullest potential.
Every year, marketing teams across the country spend countless billions of dollars to generate awareness and identify potential sales opportunities. These prospects point sales reps in the right direction – providing them with the kind of qualified, targeted contacts that will shorten sales cycles and increase their likelihood of closing deals. But, surveys show that as many as seventy percent of marketing-generated leads are never pursued by sales teams. As a result, campaign budgets are wasted and viable revenue opportunities are lost.
Lead management software can help companies overcome these challenges, and make sales reps more disciplined and more effective when it comes to the nurturing and cultivation of prospects. Other benefits of lead management software include:
Faster, More Effective Follow-Up
Lead management software systems offer a variety of features and functions that facilitate faster lead outreach. Such capabilities include automated acquisition through the Web, email, and other integrated channels, and dynamic routing to sales reps based on pre-defined lead characteristics. Lead management software also provides complete visibility into all past activities, so reps can tailor their pitches and conversations accordingly based on the interests, histories, and behaviors of each individual prospect.
Increased Marketing ROI
With a lead management software solution in place, companies can dramatically improve the results of their promotional efforts. For example, lead management software eliminates mishandled opportunities, so campaign conversion rates are maximized. Additionally, the reporting and analysis capabilities within lead management software offer in-depth insight into where the most qualified leads come from, so marketing programs can be adjusted to optimize results.
Best Practices in Lead Handling
Lead management software systems make sales and marketing team members more intelligent. By providing them with an understanding of which leads perform best, what activities are most likely to lead to success, and the other factors that contribute to "won" deals, lead management software enables companies to implement and enforce best practices across the various teams that handle leads. As a result, they can maintain consistency and efficiency, while boosting close rates, revenue, and market share.
Improved Productivity
Lead management is a complex, manual process that requires extensive administrative work. Contact information is often entered into and maintained within spreadsheets. This is quite time-consuming, distracting sales and marketing resources from other critical revenue-generating tasks. However, lead management software automates all related procedures, so employees are more productive – spending less time on cumbersome administrative activities, and more time communicating with potential customers.
Enhanced Information Accuracy
Without a lead management software solution, companies can experience inaccuracies and gaps in vital contact information. Spreadsheets, contact management solutions, and other silos of lead information may exist in multiple disparate locations. As a result, those who follow-up on leads are doing so using data that is likely outdated or incomplete. But with lead management software, all relevant information is fully centralized. So anyone working with a prospect has unhindered access to the most current, accurate, and comprehensive information possible.