About Web Content Management Software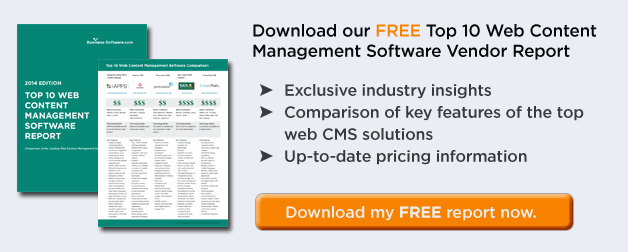 Properly maintaining a corporate website is a complicated process involving the management of web content throughout its lifecycle. Creating, editing, and managing web content has traditionally been a very timely and costly process that eats up valuable resources. A system which can effectively manage this workflow and efficiently push content onto live sites can help companies properly leverage websites as an effective marketing channels that draws interest to products and increases revenues.
What is Web Content Management?
A web content management system is a comprehensive solution that enables effective management of web content throughout its lifecycle, allowing websites to be updated in a timely and efficient manner. Web content management systems make it easy for companies to maintain consistent branding across all company-related websites by allowing users to easily create, manage, and edit all web content from a single source.
With a web content management system, it becomes unnecessary for users to have knowledge of complex programming languages. Web content management systems make it easy to maintain websites, allowing technologically limited users to manage and update websites quickly with limited training.
Web content management technology has evolved into three primary categories: Java EE, .NET and LAMP on which many open-source software (OSS) offerings are based.
Key Benefits for Your Company
Web content management systems offer significant benefits to companies who have trouble managing and updating their websites. Key benefits include:
Rapid deployment and efficient management of websites with easily re-usable templates and content.
Reduced costs by eliminating the need for expensive personnel to manage company websites, allowing websites to be maintained by inexpensive and easily trained employees.
Enhanced productivity and effectiveness of employees enabling web content to be managed more quickly and accurately.
Improved accuracy and consistency of content displayed across complete network of company websites.
Does My Company Need a Web Content Management System?
Web content management systems can help companies of all types with their different web content needs. Whether its web content that needs to be frequently updated or a network of sites that need to be maintained, web content management systems provide the automated workflow and approval processes that encourage the addition of fresh content and promote the development and expansion of new and existing websites. Web content management assists in all aspects of the web content creation process, providing tools which allow your company website to prosper.
Key Features of Web Content Management Systems
Web content management solutions provide organizations with sophisticated tools which assist in the creation, management, and publishing of web content. Key features include:
Content creation functions, such as templating, workflow and change management which make it simple and effortless to build web pages or new templates.
Editing tools such as WYSIWYG editors that are easy to use, making it easy to make changes to the existing website.
End-to-end management and automation of the web content creation process with integrated workflow management capabilities and approval processes.
Virtualization of content allowing previews of any changes made to the live website prior to release, reducing the risk of errors.
Central repository for all types of digital assets, making it easy to manage and upload all types of files.
Scalable and easily upgradeable software with easily installed plug-ins and updates that are regularly received.
Library services, such as check-in/check-out, version control and security.
What to Look for When Choosing a Web Content Management System
Security
The importance of web content and the influence it can have on potential customers means that it is critically important to ensure that it is secure at all times. Monitoring and recording all activity associated with the web content management system is important to security by helping to maintain user integrity. Features such as content approval processes, user passwords, and login histories can save headaches by keeping track of all activity and making it easier to spot the source of any errors or security breaches.
Content Management
Consider the way web content is actually managed within the web content management system. The presence of browser based word processors such as WYSIWYG editors make it extremely easy to manage web content. In addition, simple features such as drag and drop content, image editors, and spell checkers are features that should be considered when selecting a web content management system. Although these tools are not necessarily critical to a web content management system, they make managing web content a much easier and a much smoother process.
Design/Interface
The look and feel of the web content management system can make a big difference in its overall effectiveness. The design and interface of the web content management system can have a dramatic impact on worker productivity. An interface that is easy to use and learn can provide cost savings by increasing employee productivity and decreasing training time, freeing workers to perform other important tasks.
Support for Web 2.0 Interactions
Increasingly website visitors wish to "use" the website rather than being passive visitors. New dynamic conversations, new audiences, and new models of participation such as wikis, video sharing, blogs, and reviews open content production to new audiences, introduce new models of participation and support new types of client devices and applications. Web content management systems need to encourage user-generated content and support the new web culture of communities by supporting both internal and external users.
In-house or SaaS?
When selecting a web content management vendor you have the choice of an in-house or Software-as-a-Service (SaaS) platform. SaaS systems offer lower upfront costs and shorter time to value, while in-house systems can be less expensive in the long run, and provide greater interoperability and flexibility. No matter which model fits your strategic objectives, you'll find that you have excellent solutions to choose from.
Finding a Web Content Management Software Solution
In order to select and purchase a web content management platform for your business, you first need to consider your company's needs and the quality key features you expect the solution to deliver. To ease the selection process, download Business-Software.com's Top 10 Web Content Management report, and if you still seek basic information such as software reviews, top plugins, best practices and more, visit Business-Software.com's CMS research page.