QuickBooks Review: Is It Right for Your Business?
You've heard a lot of hype about the benefits (or shortcomings) of QuickBooks software, but how do you know if the accounting solution is right for you? Check out the QuickBooks review, below, to help determine if QuickBooks accounting is a good fit for your business.
QuickBooks Accounting: The Go-To Small Business Solution
There's a reason why QuickBooks has cornered the small to midsize business accounting market: it's affordable, easy to integrate and developed by a company capable of continually evolving its features.
Being a well-recognized brand doesn't hurt either – QuickBooks is easily the most-associated brand name with SMB accounting software. And, despite a growing love/hate dichotomy of past and current users, the flagship Intuit product has maintained a relatively positive image because of its solid functionality and ability to address all of your basic accounting needs. Case in point: Capterra CEO Michael Ortner recently said his company still uses QuickBooks software, and has done so since its founding in 1999.
Though QuickBooks may not be able to lay claim to the title of most affordable accounting program, it continues to excel where Xero and other competitors cannot. This is in part due to the fact that Intuit offers nearly a dozen different editions, in both on-premise and hosted deployment models. It's not surprising then, that we regularly receive questions in the Business-Software.com community about QuickBooks capabilities and whether the software is a good fit for x industry or y accounting needs.
Is QuickBooks Right for My Company?
If you're trying to decide whether

QuickBooks is the right solution for your business, you should begin by reviewing its attributes in relation to the needs of your company. First consider what types of companies QuickBooks products are designed for – smaller businesses with somewhat extensive financial management needs, mid-level companies with experienced accounting departments looking primarily to streamline financial processes, and certain industries with defined financial operations.
Then, if you believe you fit into the target audience, evaluate the product's features in relation to the specific accounting tasks you perform on a daily basis. Don't forget that Intuit offers a number of QuickBooks editions tailored for different accounting activities. If QuickBooks Online doesn't address all of your financial duties, for example, check out the company's on-premise editions before assuming that the platform can't accommodate your business needs.
How QuickBooks Matches Up With Company Size
Although QuickBooks is great for many reasons, that doesn't mean every company will find the solution a match for their accounting software requirements. In fact, you can relatively easily determine whether your business should spend time assessing QuickBooks for your software needs by matching your company with one of the following size categories:
Small Businesses
Small businesses that need a software package with minimally adaptable invoices, payroll activity and sales tax records capabilities, will find QuickBooks a viable option. However, SMBs who are inexperienced in the space of accounting software and want a solution with out-of-the-box simplicity will soon find out why some small businesses aren't fond of QuickBooks.
Midsize Businesses
A medium-sized business with reasonably experienced accounting software users who are looking for minimal customizability and maximum value can benefit from the use of QuickBooks, especially if they are not looking for a great deal of interactivity with other software, aside from simple Microsoft Office output files (like Excel or Access). But mid-level companies on the smaller end of the spectrum may very well run into the same issues as SMBs (see above).
Large Businesses
In many cases, larger businesses will demand a platform that is more adaptable and customizable, and offers a number of additional options and special attributes. In fact, QuickBooks is limited in that there are typically only a certain number of licenses available, and your large business may need greater scalability to be effective. Yet in the case of a larger company performing mostly uncomplicated accounting tasks, QuickBooks can easily be a more cost-effective alternative to enterprise level accounting solutions.
The bottom line: While QuickBooks is certainly a great product for some businesses, it is not necessarily the best option for all types of companies. If you consider yourself (or your business) an amateur accounting software user, perhaps QuickBooks is not the right tool for you. Yet if you're either already familiar with the platform or somewhat knowledgeable about accounting products, then a trip to our software comparison chart might be worth your time.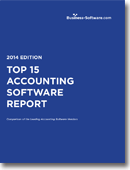 Interested in comparing QuickBooks to other top business accounting solutions?
Browse our compilation of quality on-premise and hosted accounting programs in our free downloadable Top 15 Accounting Software comparison report. You can also browse all of our content on QuickBooks reviews, alternatives and best-practice tips by visiting the Accounting Software resource center.