What Is a Virtual Call Center?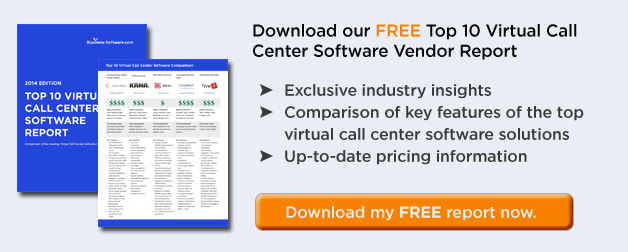 Organizations around the globe spend more than $300 billion annually on their call centers, according to a recent article published by the American Marketing Association. In fact, the average yearly costs associated with running a 200-agent operation exceeds $10 million in some industries.
Everyone knows that a call center is critical to ensuring the delivery of superior service and support to both existing and potential clients; but with related activities eating away at corporate budgets, managers are under increasing pressure to find ways to reduce costs while maintaining – or even improving – service levels.
A virtual call center is very unlike traditional call centers. In the past, a team of call center agents were housed at a single site, with supervisors and team leaders evaluating performance and providing guidance in-person. In a virtual call center, agents – and sometimes their managers – conduct business out of a variety of remote locations, including branches and home offices. Many virtual call center strategies also include the use of third-party call center service providers.
Key Technologies of a Virtual Call Center
There are a variety of top-rated virtual call center software products that enable effective virtual call center operations. Among the most applicable and valuable are:
Call Recording and Monitoring. Call center managers face added challenges when managing remote agents. By recording calls and reviewing them at a later date, or monitoring them live as they are happening, supervisors and team leaders can more accurately assess agent performance to ensure that all calls are being handled in the most efficient and effective manner possible.
VoIP. Many companies who follow the virtual call center model do so to support global operations, or to enable effective call center outsourcing to third-party providers in other countries. VoIP-based telephony solutions help to keep toll fees at a minimum by allowing international call center agents to make phone calls to the US for much lower fees.
Scripting. The functionality within scripting software helps to guide agents – regardless of their location – through various types of calls. This ensures that they are handling problems and questions, and conveying campaigns and promotions, in an efficient and consistent fashion.
Intelligent Routing. The ability to dynamically distribute calls based on specific criteria, such as availability, skill set, or locations, is critical to facilitating smooth virtual call center operations.
Workforce Management. With remote agents, schedules and workloads become harder to coordinate. With workforce management software, supervisors can automate and streamline scheduling, training, and other critical staff-related functions across all locations.
Virtual Call Center Benefits for Your Company
Companies who move to a virtual call center model can realize significant advantages, including:
Reduced Overhead Costs
Virtual call centers typically require a lower investment in both real estate and capital equipment. Additionally, by hiring agents in remote areas where the cost of living is lower, companies can cut down on payroll expenses.
Broader Employee Selection
Companies who opt for the virtual call center model often have a greater pool of talent to choose from. Since agents can be located anywhere, businesses are not limited to a specific geographic area (i.e. within driving distance of headquarters) when searching for representatives to hire.
Improved Agent Retention
Call center agents have average attrition levels of 33 percent each year, and the cost of hiring and training a single new agent is close to $15,000. Studies show that agents who work in more flexible virtual call center environments experience less stress and greater satisfaction than their counterparts who work in traditional call centers. This in turn reduces turnover.
Greater Continuity of Service
Companies who house agents in strategically-placed offices around the globe can ensure more effective and affordable around-the-clock service by breaking down such barriers as time zones, foreign languages, and cultural differences.
Does Your Company Need a Virtual Call Center?
Call centers of all types and sizes can achieve dramatic benefits by moving to a virtual call center model. By asking the following questions, you can determine if the virtual call center model is right for your business:
Are the costs of operating your contact center skyrocketing?
Do you find it difficult to attract and retain qualified, skilled agents who reside in your immediate area?
Does your contact center operate globally, with clients from different geographic regions calling at all hours of the day and night?
Is your company running out of office space at its headquarters or primary facility?
If the answer to more than one of these is yes, than it may be time to consider transitioning from a traditional call center to a virtual one.
What to Consider When Implementing a Virtual Call Center
Hosted or Web-based software
Call center agents need access to a variety of software applications in order to effectively service potential and existing customers. If on-premise, client/server-based solutions are employed, IT teams will likely need to be dispatched to areas across the world to get remote agents up-and-running. On the other hand, if a company utilizes hosted or Web-based software solutions, agents need nothing more than a PC with a standard Internet browser to begin using the needed applications
A Centralized Knowledge Base
An agent, particularly a remote one, needs to have access to timely and accurate data about products and services, billing, pricing, inventory, promotions, and much more in order to most effectively answer questions, resolve problems, provide information, and generate sales. While on-site agents have a variety of places to turn to for the information they need, remote agents will need immediate access to a centralized knowledge base in order to properly perform their jobs.
Agent Segmentation and Specialization
In a successful virtual call center, remote staff is segmented into teams, each specializing in a specific communication channel (email, IM/chat, phone, etc.), type of interaction (help desk, billing and accounting, sales and order taking, etc.), or line of business. When developing a virtual call center strategy, companies need to determine how to best utilize these agents, to simplify management and ensure optimum efficiency.
Ready to review your virtual call center software options? Check out the free Business-Software Top 10 Virtual Call Center Software report to compare leading industry