Top 10 Virtual Call Center Software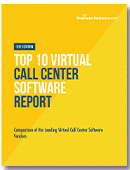 We've just made it a lot easier for you to find the best Virtual Call Center software. Our Top 10 Virtual Call Center Software Report reveals:
The Top 10 Virtual Call Center vendors you should consider.
Highlights of each vendor's Virtual Call Center strengths.
Vendor background and contact information to get you started.
How the right Virtual Call Center software enables rapid call center deployment and scales to meet your needs.
Traditional call center models are costly and often inefficient, hence the emerging popularity of the virtual contact center, or VCC. In virtual contact centers, agents – and sometimes their managers – conduct business out of a variety of remote locations, including branches and home offices. Companies who move to a virtual contact center model can reduce overhead costs, gain access to a greater pool of talent, improve agent retention, and offer a greater continuity of service.
Please register below for immediate access to this report.