Slack vs Azendoo: The Project Management Showdown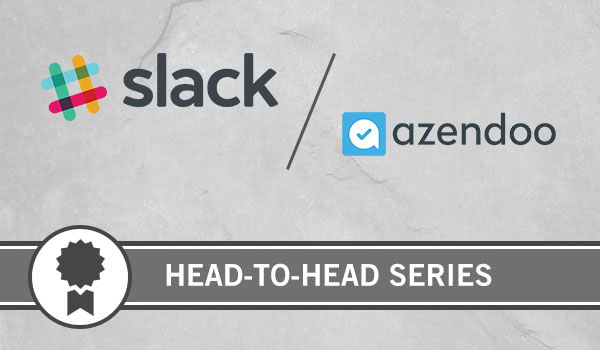 In January 2016, GlobalWorkplaceAnalytics.com cited that while 80 to 90 percent of employees desired the ability to work (even partially) remotely, only about 50 percent of U.S employers gave them the opportunity to do so. In the year since, that number has increased as the remote workplace continues to evolve and become more "normal." With more employees working out of the office came the need for comprehensive yet dynamic project management tools. Not only do these tools assist companies in increasing productivity levels, they also foster better team communication and employee engagement.
Companies like Slack and Azendoo continue to revolutionize the team management space by offering customers top-notch products at a variety of attractive price-points. Their respective platforms have made both the daily work process and collaboration systems that much simpler, despite the digital barrier. As two of the leading platforms in the task management industry, we pit them against one another to see who comes out on top – this is Slack vs Azendoo.
Slack vs Azendoo
About Slack Technologies, Inc.
Headquartered in San Francisco, California, Slack Technologies, Inc. (originally named Tiny Speck) was founded in 2009 by Stewart Butterfield, Eric Costello, Cal Henderson and Serguei Mourachov. Slack started as an internal company tool used during the production of Glitch, a game that was later scrapped. Despite the letdown, Slack, the real star, was born. To date, Slack continues to grow their customer base which includes LUSH, Jet.com and SurveyMonkey.
About Azendoo
Azendoo was founded in 2010 by Benoit Droulin, Christophe Gagin and Grégory Lefort, and is headquartered in Bordeaux, France. The platform took off in June 2012 after the company raised 700,000 euros from a fundraising campaign. After this success, the software later received The Next Web "Best Web Application" award in 2013, as well as Evernote's "Best Multi-Platform Award" in 2014. Companies around the globe rely on Azendoo's project management platform like Adobe, Netflix, Evernote and box.
Pricing
Slack
Slack is available in a number of tiers based on storage, support, messaging and integration needs. Teams needing copious amounts of storage or one-on-one support may find the perfect fit in the standard tier ($6.67 per user, per month) or the premium package ($12.50 per user, per month). For companies on a tighter budget, Slack offers a number of the aforementioned features, albeit watered down, for free.
Azendoo
Azendoo is offered in two service-level options, dubbed team and enterprise tiers. Team ($7.50 per user, per month) offers multi-team support, file storage integrations with unlimited uploads and advance search capabilities, all of which begin after your thirty-day trial. If workflow integration, customized data import and export options or environment set-up are of interest, companies will need to upgrade to the Enterprise level (Contact vendor directly for pricing information).
Design and Usability
Slack
The Slack dashboard offers real-time updates and metrics for both messaging and progress on projects. Slack organizes subjects in what they call channels, which can be organized by department, project and task. Additionally, if a channel is public, any employee can join the conversation at any time. Slack has a modern design that provides even the most novice users with easy navigation.
Azendoo
Unlike Slack's setup, Azendoo organizes subjects differently, by what they call workspaces. Workspaces is where a team can share information and communicate with one another. Workspaces sets it apart from Slack's design because … While the dashboard isn't as user-friendly as Slack's, Azendoo's dashboard does include scheduling capabilities, as well as reporting and analytics tools, that are both useful and easily accessible.
Task management and collaboration
Slack
Even the smallest teams can find it challenging to stay up-to-date on projects and tasks. The developers at Slack look to their creation, Busybot, to make disorganization a trouble of the past. With Busybot acting as the team's task manager, project organization and task management become more efficient. Teammates can create tasks directly in a discussion board and Busybot will automatically organize and assign the task according to whoever is tagged. Busybot is free to use and simplifies the workflow process with minimal human input or effort.
Azendoo
Azendoo offers a wide range of task management tools that simplify collaboration and organization. Task cards allow teammates to discuss tasks, assign deadlines, upload documents and tag subjects, within a single thread. Users can also use integration tools to export their task list to programs like Evernote, as well as create tasks directly from their email database. Azendoo lacks the sophistication that Slack's bots bring — which is what customers ultimately need.
Team communication
Slack
Companies using Slack are provided with multiple ways to communicate internally, from instant messaging to face-to-face video chats. Colleagues can start a voice or video call from any direct message or channel, making team communication both accessible and quick. Companies utilizing paid plans have access to group calling features, which allows up to 15 participants to join.
Azendoo
For quick responses, Azendoo allows users to set up polls where teammates can vote and send a quick response. Additionally, Azendoo lets users chat, interact and share documents within one thread. The solution provides teams with checklist creation tools and a smart search function that assists during complex projects. Azendoo's ease of use and functionality of the team communication tools surpasses those of Slack — making it a clear winner in this category.
Partners/Integrations
Slack
Slack offers a variety of resources and integrations that help business professionals extend their network globally while also increasing productivity. The application also offers third-party integrations with office management platforms and file management solutions.
Azendoo
Azendoo integrates with a number of applications that help users market and connect with their customers. Azendoo's document sharing integrations include Microsoft OneDrive, Dropbox and box.
Support
Slack
Slack's help center has an extensive FAQ page supplemented with articles, guides and video tutorials designed to troubleshoot any issues that may arise while using the application. Depending on your company's plan, email support is offered 24 hours a day, 7 days a week.
Azendoo
Much like Slack, Azendoo's support center contains a number of guides, articles and webinars. Though Azendoo provides similar customer support resources to those of Slack's, Slack's level of assistance is more in-depth.
And the winner is…
Slack and Azendoo provides their users with a set of features that not only prove to be beneficial but have also transformed the daily work process. Azendoo is equipped with a strong support system and team communication functionality that surpasses Slack's capability. However, Slack's sophisticated API system and free pricing tier proves to offer companies more who are on a tighter budget. Additionally, Slack's easy-to-navigate dashboard allows for better in-house workflow management and seamless organization. Slack's task management software proves to outshine the other technological alternatives that are currently out in the market.

Compare Slack and Azendoo with other leading competitors in the market by downloading your FREE report today.