SAP Accounting Software Review
SAP offers a full-featured suite of financial management functions available in its SAP ERP Financials platform as well as a number of other modules. SAP Accounting software enables businesses to improve insight into their fiscal processes by streamlining accounting procedures and better managing risk. Your company also has the option to integrate this platform with one of the vendor's BusinessObjects solutions for a complete business management system. Read on to compare SAP's financial management solutions, or browse other business accounting software reviews.
SAP ERP Financials
SAP ERP is a comprehensive software platform that

enables open communication within and between all company functions. It provides real-time visibility into your company's processes, which helps reduce errors, improve communication and streamline your financial operations.
SAP ERP is part of SAP's Business Suite enterprise application package, which also includes modules for CRM, Product Lifecycle Management, Supply Chain Management and Supplier Relationship Management.
Best For: Large multinational companies looking to streamline and automate financial processes while ensuring compliance with global financial reporting standards. Use SAP ERP Financials to help streamline finance business processes, reduce operating costs, manage risk and gain timely business insights.
SAP ERP Financials Key Features
Comprehensive financial management solution engineered for the most complex, multinational companies across a broad range of industries
A seamlessly integrated solution that combines core accounting and reporting capabilities with financial supply chain, treasury, compliance and performance management applications
Supports global financial reporting standards, multiple currencies and languages with over 45 country-specific versions
Scalable and open architecture helps extend existing financial system investments
SAP Business One
SAP Business One is an

affordable, easy-to-use business management system designed specifically for small and midsize businesses. It enables you to manage your critical business functions across sales, distribution and financials, all in a single integrated system. SAP Business One has more than 550 add-ons to choose from, ensuring your solution is tailored to your specific business processes and software requirements.
Best For: Smaller companies who want the robust capabilities of a fully featured SAP ERP solution with added flexibility and more budget-friendly price offerings will find SAP Business One an attractive platform. The solution covers all of your standard business needs, from financial management and customer relationship management to inventory monitoring and business intelligence functionality.
SAP Business One Financial Management Key Features
Comprehensive and integrated set of tools effectively manage all financial processes in your organization
Financials and accounting management incorporates all key accounting processes, such as journal entries, accounts receivable and accounts payable
Real-time accounting functions automatically trigger accounting postings when relevant business events occur
Posting templates and recurring postings further streamline and simplify your accounting processes
Powerful financial reporting tools such as balance sheets, profit and loss statements, cash flow statements and aging reports
XL Reporter tool enables seamless integration of financial reports into Microsoft Excel templates
Provides all the tools and functionality necessary to manage your payment processing, including incoming and outgoing payments
Profit or cost centers are easily created and let you allocate revenue and expenses according to distribution rules, which are customizable and specific to your business
SAP Business ByDesign
SAP Business ByDesign is a hosted

software platform to help you manage all of your everyday business operations, including customer relations, finances, human resources and supply chain. Simplify administrative tasks and reduce clerical errors, gain real-time insight into business analytics and access critical business information anywhere with SAP Business ByDesign.
Best For: Midsize businesses and subsidiaries of larger corporations will benefit from the added flexibility of this full-featured on-demand business management solution. Business ByDesign is ideal for companies seeking a scalable yet comprehensive platform to more easily sustain standard business procedures.
Business ByDesign Key Features
Improve financial, customer relationship, human resources, procurement and supply processes
Streamline end-to-end business operations, from client interactions and financial tasks to supply chain management
Add client contacts, edit financial reports and perform other important business actions on the go with the mobile-accessible platform
Supports automatic tax calculations as well as multi-currency transactions
SAP Corporate Information
Founded in 1972, SAP is the leader in enterprise application software, with a #1 market share worldwide. The company develops solutions to manage accounting, distribution, human resources, and manufacturing functions – with a focus on six industry sectors: process industries, discrete industries, consumer industries, service industries, financial services and public services. SAP's best-known products are its Enterprise Resource Planning application (SAP ERP), BusinessObjects (analytics), Business One (business management for SMBs), and, most recently, their in-memory computing application SAP HANA.
Looking for Additional Details on SAP Accounting Software?
Compare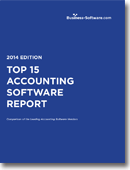 SAP financial software with other leading accounting solutions in our free Top 15 Accounting Software vendor comparison report. Or, browse the SAP Accounting Software section of our accounting research center for more information.
If you'd like to learn more about SAP accounting software applications, read our product profile for SAP ERP Financials, or explore the Business-Software.com product directory.