Content Management vs. Document Management: What's the Difference?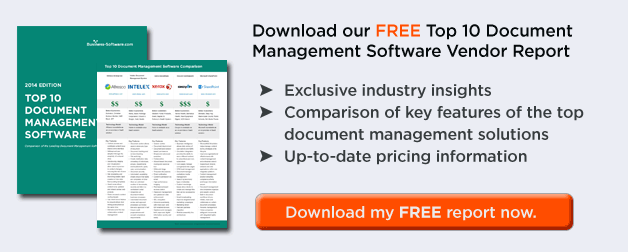 Many companies today recognize the need to better organize their vital business information, store it more cost-efficiently, and make it more readily accessible to employees across the enterprise. Many are seeking out automated solutions to help accomplish this. But with so many solutions to choose from, the process can be quite confusing. Further compounding the problem is the fact that some vendors call their solutions "document management" systems, while other claim to offer "content management" packages.
How Content Management Differs from Document Management
Let's start with the similarities. Both content management and document management systems provide fully centralized storage and administration. A Web-based or network-based repository makes information easy to find and retrieve to help manage content in an organization. By eliminating disparate information silos, both content management and document management systems allow any one, any where to leverage corporate information to improve the way they perform their day-to-day activities.
CMS and DMS Similarities
Fully centralized storage
Easily retrievable information
Leverage corporate content
Streamline information creation
Accelerate time-to-publish lifecycle
Powerful security features
Additionally, both document management and content management solutions help to streamline the information creation process from end to end, supporting all phases of the lifecycle from drafting and review, through approval, finalization, and distribution. With fully automated and coordinated workflows, as well as a portfolio of design templates, both applications help to improve productivity and accelerate time-to-publish.
Collaboration and information-sharing are also enhanced with both types of solutions. Document management and content management systems facilitate fast and effective information distribution, and allow multiple users to work together on the same document simultaneously, even if they reside in remote locations.
Document management and content management applications can both be relied on to preserve the integrity of confidential company information. Both solutions offer powerful security features to protect sensitive business data by preventing unauthorized access and use. With all those similarities, it's no wonder companies find it hard to understand what the differences are, and which solution they need.
The Main Difference Between Document Management and Content Management
Content management systems vary from document management systems in one key area – the type of information they manage. Document management solutions are designed specifically for data contained in structured documents and files like Word, PowerPoint, Excel spreadsheets, PDF, and other popular formats. Their purpose is primarily to digitize and archive files, and track and manage new documents throughout their lifecycle, as they are written, revised, and updated. Many of them include advanced imaging and scanning capabilities (for digitization of hard copy files), that can't be found in most content management systems.
Content management systems, on the other hand, are more about the logical organization and improved accessibility of various types of structured and unstructured electronic information. This includes not only the kinds of files that are managed by document management applications, but a broader range of digital assets. For example, audio, video, Flash, and multimedia files, as well as raw data collected from various third-party Internet sources.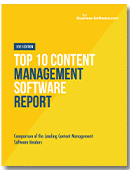 So, which one does your company need? Business-Software.com's Content Management Resource Page provides additional articles and reports on both CMS and document management to help you decide. Whether you require document management or a more comprehensive content management solution, resources like our Top 10 CMS and Top 10 Document Management will help you compare solutions and decide what's best for your business needs.