The Benefits of Application Lifecycle Management (ALM) Software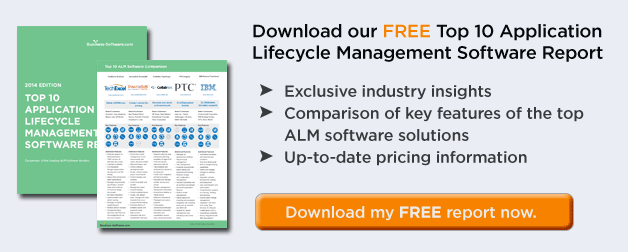 An ALM software solution is a powerful technology tool that helps companies dramatically improve all facets of software design, development, deployment and ongoing administration. Whether your company creates software for sale to customers, distributors or re-sellers, or builds it solely for internal use by employees, top-rated ALM software systems offer all the features and capabilities you need to facilitate the effective planning, execution, and tracking of all development-related activities throughout the entire lifecycle.
The process of software application development is made up of a variety of complex and interdependent tasks and procedures that must be well-coordinated and seamlessly carried out to ensure that projects are completed on time and within budget. That's why today's ALM software packages provide full support for all related activities, including project management, requirements planning and definition, creation of development task workflows, and quality assurance planning and testing.
Requirements management, which enables the definition, control, and communication of the goals that are driving a software development project as well as any regulations that will impact the development process.
Software design, which ensures that the end product adheres to all technical specifications and requirements and will successfully address all end user needs.
Project management, which simplifies the scheduling, allocation, and tracking of both human and technology resources. Tasks can be assigned to specific staff members, deadlines can be set, interdependencies can be created, and the status of each activity can be kept fully updated at all times.
Testing, which clearly outlines all quality assurance procedures and allows for immediate detection and correction of bugs and other problems before the software is sold or implemented.
Change management, which helps managers keep projects on track when requirements change during the course of the development cycle.
Monitoring and reporting, which enables project leaders and other supervisors to set and measure key performance indicators, so they can stay on top of the status of projects – as well as individual tasks – in real-time.
There are some more advanced ALM software systems on the market today that offer more sophisticated capabilities.
Modeling, which allows developers to dynamically design the central architecture that will serve as the backbone of the finished software product.
Configuration management, which facilitates the efficient handling and tracking of all software features, components, and configurations as they change and evolve.
Build management, which allows repetitive and routine development tasks to be fully automated, integrated into the development process, and scheduled.
Release management, which provides a full history of all releases and the enhancements they included over time.
Deployment management, which defines implementation and roll-out processes to ensure optimum speed and efficiency, so that users can get up and running as quickly as possible.
Want more on application development software? Check out the free Business-Software Top 10 Application Lifecycle Management Software report to compare leading products and discover an ALM software solution that meets your company's unique needs.