Top 10 Application Lifecycle Management Software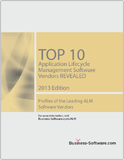 We've just made it a lot easier for you to find the best application lifecycle management software. Our Top 10 Application Lifecycle Management Vendor Report reveals:
The top 10 application lifecycle management vendors you should consider.
Highlights of each vendor's ALM strengths.
Vendor background and contact information to get you started.
How the right application lifecycle management software improves the management, control and monitoring of software development.
An application lifecycle management (ALM) package allows companies to manage all aspects of software development.
With an ALM solution in place, organizations that develop software as a core business function can significantly improve the way they design, build, implement, and adapt new applications. As a result, they can better address customer needs, support new internal business initiatives, or successfully achieve other mission-critical goals and objectives.
Please register below for immediate access to this report.