Five Top CRM Companies
Each year, the editors at CRM Magazine select and publish their list of CRM Market Leaders, honoring the best CRM companies that offer the most robust products and the highest quality customer service. 2013 marked the 12th year that CRM Magazine has published this list, and the first year that cost was included as a deciding factor.
The CRM market continues to grow. According to numbers posted by Gartner, global spending on CRM reached $18 billion in 2012, a $2B increase from the numbers posted for 2011. While on-premise deployments still maintain a healthy presence, SaaS CRM has increased market share at a faster pace than many industry analysts predicted. SaaS deployments now constitute 40 percent of the CRM market according to numbers cited by CRM Magazine.
Here are the five top vendors CRM Magazine chose for 2013. Additionally, we've put together our own list of three of the best CRM companies that are smaller and/or gearing their product towards smaller organizations.
Five Top CRM Companies for Enterprise
Salesforce.com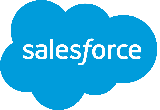 Remarkably, Salesforce.com has maintained its prominence in high-end CRM, rounding out CRM Magazine's list for 2013. The list of extended functionality being added to the core Salesforce offering continues to get longer and longer, much of it driven by the company's aggressive growth strategy, which in 2012 and 2013 included several key acquisitions in social media management, social advertising and marketing automation.
The company finished off 2013 with the $2.5 billion purchase of ExactTarget. The acquisition signified Salesforce's intent to make serious inroads into marketing automation, and it remains to be seen how the company will take advantage of the new technology in 2014.
Microsoft

Microsoft continues to be a presence on CRM Magazine's Top Five. Dynamics CRM has proven itself as a versatile solution for enterprises as well as smaller organizations.
Ample third-party support and add-ons, competitive pricing and the recent addition of intelligence features have all contributed to Dynamics CRM's continued relevance in this space. All of this has boosted interest in Dynamics as an enteprise-grade CRM solution.
NetSuite

NetSuite's investments in social media and mobile tech in recent years have paid off. "Tight-knit" connections to ecommerce and cloud ERP were cited as factors contributing to NetSuite's prominence in enterprise CRM. Additionally the company nabbed high scores in CRM Magazine's evaluations of customer satisfaction and company direction.
SAP

SAP has returned to the top five after several years' absence. CRM Magazine cited strong positive reactions from CRM analysts on account of multiple improvements in mobile compatibility as well as UI.
This is very good news for SAP, a company whose software solutions have sometimes been synonymous with user-unfriendly interfaces. If the venerable German firm can continue on the trends it established in 2013 then 2014 looks to be a promising year indeed.
SugarCRM


SugarCRM received kudos in the Small Business and Midmarket categories, as well as in Open-Source CRM. It's open source nature of the solution that continues to make SugarCRM a player in this space.
In 2012 the company acquired $33 million in financing from Silicon Valley Bank and Gold Hill Capital along with several other investors. This round of investment was specifically targeted towards accelerating expansion into the enterprise CRM market.
Three Best CRM Companies for Small Business: Our Picks
Zoho CRM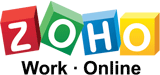 Pound for pound Zoho CRM simply has the best value prop for smaller organizations when it comes to overall ratio of cost to features provided. To boot, Zoho's remarkably diverse collection of other applications makes it very easy to expand on a pay-as-you-go basis.
Contactually


Of our three featured products Contactually has the best-looking, most intuitive UI. Additionally, you get visually vivid reports on user and lead analytics as well as novel gamification elements that few other CRM competitors have tried.
Highrise

Highrise is technically the most affordable of our three choices. In contrast to most competitors in this price range, Highrise doesn't charge per user but has three tiers based on range of registered users: 1-7<, 6-15 and 15-40. Combine that with 5GBs and 5,000 contacts on the most basic plan and you have a pretty impressive offering.
Ready to compare a comprehensive list of top CRM vendors?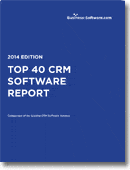 Now that you better understand the differences between David and Goliath in the CRM space, it's time to pick the best customer relationship management software for your business. Download our Top 40 CRM Software report to compare the industry's top solutions by pricing, deployment models and key features. Not ready to make a purchase? Find more free resources at the CRM Software Research Center, where we've compiled product reviews, blog posts and exclusive interviews with emerging CRM vendors.