Tasks with Timers: Asana Partners with Harvest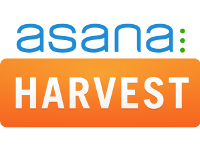 Just yesterday morning, Asana announced a new partnership with the time tracking software company Harvest. This change transforms Asana in an intuitive way: the famous task tracking system now manages time. With Asana's Harvest integration, you are able to do anything from billing clients to understanding how you or your team spend time.
Asana's mission has always been to align "energy toward a common goal," which until yesterday was only an intuitive task management and collaborative software. Today, it's also a time tracker.
Asana's Modest Beginnings
Asana began as a Facebook secret — a tool founders Dustin Moskovitz and Justin Rosenstein created to align the teams within the massively successful company. But rather than remaining a company-wide secret, the founders brought Asana to users as a professional networking tool. It tunes to your needs, showing you the information you care about. This is unlike an email inbox which prioritizes emails that are more recent and sends high priority tasks sinking to the bottom.
"Everybody has access to email and sometimes document management systems in some shape or form. And yet despite all that, no one is saying, 'Oh, I'm perfectly organized,'" says Asana's Kenny Van Zant in an interview with Business-Software.com. "It's just shocking to a lot of us that we've gone this long habituated to the notion of weekly meetings, repeat status emails and updating your spreadsheet with what you did this week when there are better solutions."
Asana is that better solution. And it has continued to take users away from tedious corrections by integrating them in constant communication and continuous understanding. To further Asana's mission, last November Asana partnered with Dropbox. This partnership not only enhanced Asana, but the integration serves as a great addition to Dropbox as well. Asana gives Dropbox context: users can comment or prioritize files as they please. Because Asana offers the benefit of context, this mutual benefit is similar to the partnership between Asana and Harvest. Asana gives Harvest timesheets detail it didn't have before.
How Harvest Works with Asana
To enable integration:
Single Person:
Click "Account Settings" in the lower left corner of the Asana platform
On the "apps" tab, select enable for Harvest
Team:
Go to "Edit Team Settings" found next to the Team Name
Enable Harvest through the "Advanced" tab
Now that Asana has partnered with Harvest, Asana's power is amplified. Everything to manage what you need is kept in the same place. This was a logical next step for Asana since fans of Asana are often fans of Harvest and vise versa. Co-founder of Harvest said in a press release announcing the debut, "With so many passionate customers using both Asana and Harvest, we are very excited to bring time tracking into Asana today. The integration makes it downright easy to track time for any task in Asana."
After enabling (directions on the right), a timer icon will appear on the toolbar in the Asana Task Pane next to the attachment and heart icon. Once a task merits the importance of time tracking, one only needs to click the timer icon. And (after creating a free Harvest account) select a project or task. The timer icon will illuminate a lovely green while timing. Intuitively, to turn the timing off, you need only to click the timer icon again. Once timing is complete, the information will be saved in your Harvest timesheet.
Time Tracking and Task Management Makes Sense
Task management and time tracking is an intuitive and infinitely useful tool for teams. Estimating time for task completion tends to be a failure — it's a human fault. We are hardwired to underestimate, to witness weeks pass due to dozens of unforeseen obstacles.
With Harvest's tool, Asana creates a way to effortlessly manage the progress of your tasks. Visually you can sense the reality of your time spent, making you understand yourself and project reasonable estimates in the future. Asana's time tracking will save effort and inform. It's simple, intuitive, and brilliant.
Want to read more insider-perspective posts? Browse our entire archive of blog posts on news from the software industry by visiting the Industry News & Trends section of the Business-Software.com blog.