3D Printing: Changing the Tech Landscape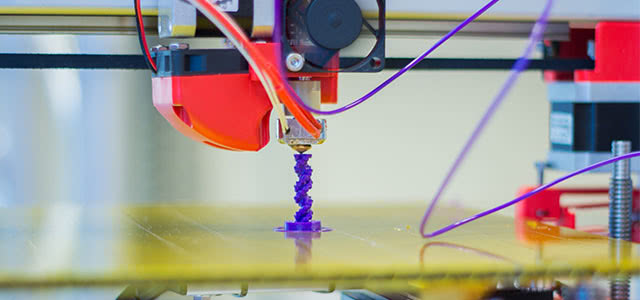 Technology continues to grow and change at a rapid pace. From self-driving cars to virtual reality, the changes are nothing but remarkable and eye-opening. These technological advancements have made leaps and bounds in productivity, management and how we view the world around us. A particular innovation that has taken the tech world by storm and changed the healthcare, education and manufacturing industries is 3D printing. 
In recent years 3D printing has gained traction with companies such as Stratasys, 3D Systems and Walt Disney Co., making progress in the 3D printing world and changing production forever. Furthermore, this innovation drastically altered the manufacturing industry, turning into the most talked about tech hub. The possibilities and benefits of 3D printing are endless.
We break down how 3D printing works, what its benefits are and how the advancement is currently being implemented into other industries.
What is 3D printing?
3D printing is achieved by using a digital printing model to create physical objects. The results of the products vary depending on what is being made, the model and material being used and how intricate the design is. Phone cases, shoes and miniature displays of architectural bridges and animals are only some of the creations that have been made on 3D printers.
How does it work?
3D printing starts with trial and error. First, users pick a design. These designs can be found online from websites such as Thingiverse and Tinkercad. Users can browse through images and videos and compare different designs.
Depending on the style, size and material, the production time will fluctuate. With designs that don't have a solid base attached, the product may not print as well. In this particular case, users may add a base to the design to provide structural support, which increases the chances of it successfully printing. Being that the technology is still relatively new, there's no perfect line from start to finish; adjustments will be made on a case-by-case basis.
It's important to remember that 3D printing takes time and patience- especially during the first few trials. But once fully implemented, it decreases the development process between scaling images and virtual prototypes and finally bringing them to life. The turnaround time of creating products has gone from months to now days.
Benefits to 3D Printing
Organizations and the public consumer alike can see improvements in production, construction and creativity.
Edit as You Go


No form of technology is perfect and the 3D printing process is constantly undergoing changes and improvements. This benefits small-scale companies who are looking to make quick and precise edits to prototypes. A team at Cornell created an "On-the-Fly Print System" that allows you to pause whatever you're printing to make tweaks where you see fit. During the early stages, product developers can assess the printing process and see if any adjustments need to be made.
Saves Time and Money


As stated earlier, 3D printing minimizes the time that it takes to create products. The cost for 3D printing models along with the molding tools aren't as expensive as traditional machinery. Though the price tag for 3D printing machines initially looks steep, the benefits make it a very worthy investment.
Creative Leverage


3D printing provides an avenue for companies to experiment with new products and create prototypes that won't hurt the budget. The technology also helps develop solutions on-the-go- and if used properly, can take the company to the next level.
The Shift in Manufacturing
It's no surprise that the manufacturing industry is becoming more digital. This shift is in-part due to the expansive adoption of the innovation of 3D printing. Products are now created on an as-needed basis with a much quicker turnaround time. With diminished time in development, manufacturing organizations have increased their workflow productivity — allowing them to ship finished product to the consumer faster.
United Parcel Service (UPS) aims to capitalize on the growing success of 3D printing by implementing a digital network into their everyday workflow. This network implementation will help service the production line as the network connection communicates with the machines in record time. The shipping giant is partnering with SAP to create what they like to call an 'end-to-end system', a procedure designed to streamline the workflow of the supply chain management process.
Exploring the Possibilities
3D printing is a great tool for most industries. Entertainment companies, schools, universities and especially manufacturers can enjoy all of the benefits that come with this innovation. 3D printing continues to change the production line and once companies look into its innerworkings and capabilities, they too can implement this technological advancement. Creativity can now be seen through a 3D lense.

While you look into the possibilities of 3D printing, browse through our FREE software reports.
[Image courtesy of Wikimedia]