Capitalizing on 2014's Top Client Buzzword: "Relevant"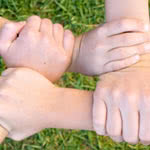 As we dive headfirst into the last weeks of the year, one resounding theme we have heard from our clients is a desire to create more personalized experiences for target audiences in 2014 and to be more, buzzword ahead, relevant in all our initiatives. Luckily, relevance is something that has been on our minds for quite some time now.
Read on for some of our favorite tactics and new advances for increasing relevance within each digital channel.
Display: Dynamic Ad Creative
We all know that showing a potential customer the right ad at the right time is the best way to capitalize on demand; utilizing dynamic ad creative in your display initiatives can achieve just that. Dynamic ad creative allows you to create one ad unit template with several asset variations that can then be dynamically populated based on a user's previous experience. These previous experiences are often related to actions the user has taken on your own site, for example, serving someone an ad with a picture of the exact shoe they were looking at on your ecommerce site.
You can also choose a similar route and have an ad populate based on the type of content a user is consuming across the web, for instance, serving an ad for your home improvement category to someone on a realty site. The opportunities for increased relevance are virtually limitless when it comes to incorporating dynamic creative into your display media plan.
Paid Search: Dynamic Landing Pages
If hyper-relevance is what you're after, dynamic SEM landing pages are right for you. Even a comprehensive website build may lack the most relevant landing pages for some paid search users, especially as the use of long tail search queries such as "Grand Jeep Cherokee SUVs for sale in Lancaster, PA" make it near impossible nor feasible. But through the knowledge of the consumer's specific search query, the use of dynamic landing pages creates a highly relevant experience that can increase conversion rates and paid search positioning while also decreasing cost-per-click.
Pairing paid search queries with relevant text ads and a hyper-relevant landing page experience is associated with an increased likelihood to purchase while simultaneously allowing for a deeper understanding of your customers' needs and search behaviors.
Social Advertising: Shared Endorsements
One way to increase relevance is to show your ad to others who are deemed similar or familiar to your brand – something that social advertising has been known for since Facebook introduced Sponsored Stories in 2011. Considering how important a role word-of-mouth and personal endorsements play in our decisions to try a new product or service, it makes sense that showing an ad using a friend's name who already "likes" a product would be successful.
Google+ (Google's social platform) took this idea one step further last month with their introduction of Shared Endorsements in which ads are created from activities someone has taken online and shown to their friends. Brands can now pay to have their business or products "endorsed" to new audiences by their own friends who have recently followed that brand, left a review or even authored a post on their page.
Email Marketing: Behavioral Segmentation
There are a number of ways to segment your email marketing campaigns, but none more powerful, nor more likely to increase relevance amongst your audience than behavioral segmentation. This type of campaign segmentation essentially groups consumers within your email database list based upon actions they have taken: purchases made on your site, browsing of various content pages, or engagement with previous email links. Segmenting in this way allows you to better tailor your future email content to each group by capitalizing on behavioral motivators and previous interest indicators. The result? Higher open rates, increased engagement and a more relevant and interested consumer.
Search Engine Optimization: Leverage Social Research
If you're looking to increase the relevance of your website content (the fundamental building block of search engine optimization), look no further than social research to uncover low-hanging fruit opportunities. If you've been wondering what is important to your audience when it comes to your industry or product offerings, social research is a great way to identify the content categories that are already being discussed by those most likely to have interest in your brand.
Let's say that you own a bakery; listening to unsolicited conversations taking place on social channels alerts you that there is a growing interest in French macaroons. Since we know that where there is conversation there is likely to be search intent, you can now prioritize your landing page needs and website content to include this relevant conversation topic and be seen across search engine results pages.
Looking for more information on accounting software? Check out our side-by-side comparison of leading platforms in the Top 10 Paid Search Marketing Software report. You can also browse exclusive Business-Software.com resources on search marketing and PPC marketing by visiting the Marketing Research Center page.
[This post originally appeared on Asking Smarter Questions and is republished with permission.]