Compare Top Hospitality Management Software in Our New Report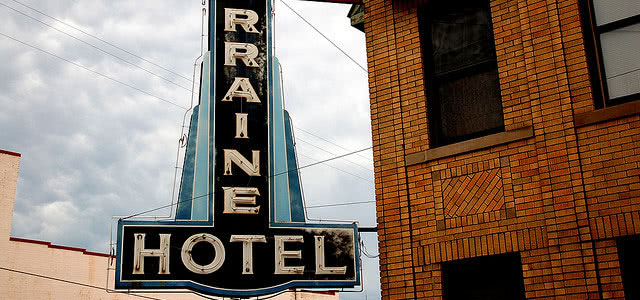 Running a hotel or other guest-oriented property can be a nightmare if you rely on manual processes, jerry-rigged spreadsheets or outdated reservation and booking methods. Tracking bookings, reserving rooms for groups, managing maintenance needs and organizing housekeeping activities are all hefty tasks on their own; pile them on top of one another and you've got yourself a seemingly insurmountable (not to mention depressing) amount of work.
Investing in a hospitality management system can automate many of your employees' duties and free them up to take on new projects. Whether you manage a small B&B or a chain of 5-star hotels, we've created a Business-Software.com offer to solve all of your woes — a detailed breakdown of the leading property and hotel management solutions that can save you money and time.

Why Use Our Top 10 Hospitality Management Report?
Our new Top 10 Hospitality Management Software report reviews the best tools designed with your unique needs in mind and allows you to compare top hospitality management software, ensuring hoteliers and other hospitality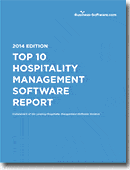 Inside, you'll find:
An introduction to the industry and overview of must-have features
Detailed product synopses
Comparisons of key features
Relevant pricing information
Deployment options available for each product
What Are the Top Features of HMS and PMS Systems?
Whether you seek to reduce overhead or improve workflows at your hotel or other guest-oriented property, there are a number of functions your hospitality solution should have:
Online bookings — Enabling guests to make reservations online can significantly impact your business' bottom line, increasing your potential customer base and improving your ability to fill reservations.
Flexible deployment — Companies with multiple properties will find an on-premise solution difficult to synchronize with other locations, unless the software has the capability built in. Make sure the available deployment options meet your business' needs and offers the desired level of elasticity.
Mobile accessibility — The ability to interact with your application through a tablet or smartphone ensures you can both update and monitor dates, tasks and to-dos in real time. With a mobile-accessible platform or complementary mobile app, you won't need to remain in front of your computer; you can continue to oversee workflows while simultaneously maneuvering around the property. Issues can be addressed and resolved quickly by you or any of your staff members using mobile devices.
Scalable modules — If you're looking to expand or acquire a larger customer base within the next few months or years, adaptability is key. Aim for a solution that offers a variety of add-on modules, particularly those that may come in handy with growth, such as payroll, guest management and rate management.
To see all of the must-have features and compare top hospitality management software capabilities, download our free report.

Why Purchase Hospitality Management Software?
If the promise of more productive employees doesn't sway you, consider the impact an HMS system will have on your business model and daily processes. With software, you can better coordinate housekeeping, reservations and maintenance with back-end office tasks (like billing, payroll and other accounting tasks).
Not only will you spend less time organizing disparate front- and back-office tasks, but you'll experience a faster, better-functioning chain of operations.
And for anyone out there who thinks they're saving money by relying on the good old pen-and-paper book method, we have news for you: juggling traditional booking tasks with housekeeping and maintenance — on top of guest activities — likely uses up more resources than you think it does. At the very least, find a hospitality management solution with a trial offer and take it for a test run; you might be surprised to find just how much more effective a software tool can make your team.
Check out all of our top recommendations for hotel and property management systems by downloading the report, plus browse vendor clients and supplementary functions offered with each product.
[Photo courtesy of flickr user Nick Findley.]