Deliver Amazing Customer Service – This Year and Beyond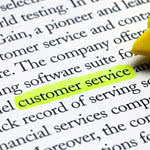 The start of a new year offers the chance to look back and reflect on the lessons of the year before. In doing so, I have rounded up some of my favorite ideas, strategies and tactics from last year and offer 13 customer service tips to jump start your customer service efforts in 2013.

Strive to offer legendary service – Discuss your greatest customer service successes and create your own customer service "legends." This sets a level for everyone to aspire to.

Be a role model – No matter your title or position within the company, you can be looked up to as a role model of customer service. Consistently set a good example for everyone around you to admire and emulate.

Know what customers are saying on social media – and respond – Monitor social media and use it to your advantage, even when customers complain. The key is to respond as quickly as possible; fix the problem and then let everyone know via social media as well. Don't forget to acknowledge and express gratitude for positive comments too.

Add value through YouTube – As one of the most popular forms of social media, YouTube is a valuable tool for value-added content. Use it to answer commonly asked questions or demonstrate ways of using your products. All kinds of businesses – including mine – regularly post videos on YouTube. It's another positive way to connect with your customers.

In one word or a simple sentence, define what you want to be – When you think of Ace Hardware, does one word come to mind? Of course, it's Helpful. My goal with customer service is Amazing. What's your word or phrase? How would you want customers to describe you?

Allow experimentation – Employees will welcome the opportunity to find new ways to offer the best customer service. Set a few common-sense ground rules – always enhance the customer relationship, aim for a favorable outcome for the customer, don't hurt the company (legally, financially, etc.) – then allow employees some freedom to find their own customer service style. Be sure to follow up, find out what works and share best practices with others in the company.

Learn from successes and mistakes – After employees are given the freedom to experiment, take the next step and use their experiences as learning opportunities. Realize the value in lessons learned from mistakes, and share success stories. Celebrate it all.

Know and support your community – Be "that" business – the one with the bake sales out front on Saturdays, the company name on kids' sports teams, the first to give to someone in need in the community. Care and contribute. Whether you operate in a small town, nationally, globally, or even online, know your community, and be visible and active in your support.

Make it about more than the product – Chances are, you are not the only business selling your particular product or service, so you need to give customers a compelling reason to choose you over your competitor. To be successful, you can't necessarily offer lower prices to attract customers. Don't get caught in the commodity trap – distance yourself by offering a superior customer service experience. Put yourself in the customer's position and ask, "What can I offer that will make someone want to do business with me, rather than the competition?"

Consider the entire customer experience – There's more to the customer experience than just customer service. In today's world, there are countless opportunities to interact with customers and potential customers. Positive face-to-face interaction is, of course, still important, but you can add value through social media, and consider the concept of gamification – offering interactive games for customers to play. For an example, check out my favorite, the arcade presented by Home Shopping Network at www.HSN.com.

Be observant and pay attention – Even when customers aren't talking directly to you, know what they are saying about you. For example, during a convention I attended, the hotel food service staff served chocolate chip cookies and I told a fellow attendee they would really taste great if they were warmed. A member of the hotel staff overheard this and soon delivered warm cookies to our table. Look for opportunities to make your customers happy.

Recruit customers to serve on a customer service board of directors – More than just a focus group, meet with this group of customers regularly to brainstorm new ideas and get feedback. Be sure to compensate them properly for sharing their time and offering their honest opinions.

Never forget the basics – Even with all the technological advances and new ways of connecting with customers, don't forget to continue with the basics of great customer service. Create a customer-focused culture: hire right, train right and manage right, and keep amazing service alive.

One more thing – don't try to do everything at once. Choose one of these strategies to focus on in 2013. Once you have mastered it, choose another to implement and always keep improving and moving forward.