The Case for Social Customer Support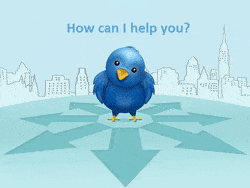 In the past few years numerous businesses have experimented with using social media as an avenue for delivering customer support. Social support is a unique proposition, representing an intersection of technical support and marketing, where a company can improve customer perception and brand visibility while simultaneously addressing customer concerns.
Today, leading companies like Comcast and Home Depot operate successful social support campaigns, and their efforts are built on software developed by vendors in the burgeoning social customer support software segment.
In a report outlining the imperative for social support, Forrester analysts cite statistics which reveal that customers today don't just welcome social customer service, but in fact expect it. Fifty-nine percent of survey respondents stated that they expected companies to respond to the negative comments they posted Twitter, and 72 percent felt that companies should respond to comments made on ratings/reviews sites.
Although the adoption rate of social support among customers is still relatively low, these numbers are growing rapidly. In 2009 only 1 percent of online consumers in the United States had used Twitter for support. Two years later, that number had grown to 27 percent. Additionally, the majority of those who use social for customer support leave with a positive experience, particularly in the younger demographics (<45). When businesses handle social support properly, the benefits extend beyond the sole user who initiated the contact. A report by Conversocial found that 13 percent of online consumers in the U.S. had a "very favorable reaction" to companies addressing negative user comments on social sites like Twitter and TripAdvisor.
Case Studies
Top brands are taking different approaches to addressing customer support through social.
Home Depot has long prided itself on offering customers expert guidance via trained and knowledgeable in-store staff. With the help of Lithium's social platform, the home improvement giant has been able to extend that level of service to the Web. The Home Depot Community offers customers a variety of features including Project How-Tos, Guides, and a forum visited by trained Home Depot staff and vendor representatives who answer home improvement questions posed by visitors.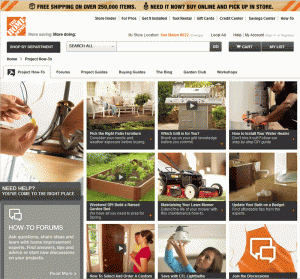 If you use Twitter and Facebook, you're aware that they're commonly used to gripe about daily inconveniences. Recognizing that disruptions in cable service are a source of great angst for its customers, Comcast has taken to Twitter to put a human face behind its support. The @ComcastCares campaign encourages Comcast customers to Tweet their issues to representatives, who then troubleshoot directly from Twitter (see @ComcastMattV for an example). Comcast uses Radian6 to monitor social media activity. Ultimately, the company aims to improve brand sentiment through its efforts.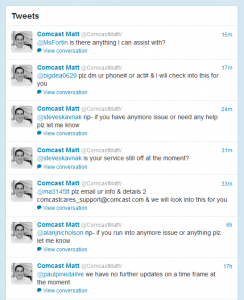 Social Support Software
There are a variety of solutions available to help businesses further their social support activities. These include social media monitoring/listening solutions, social platforms that allow businesses to build user support communities from scratch, and social media management tools that streamline the customer engagement process.
If you're looking for more insights on customer service platforms our exclusive report of customer service software provides a side-by-side comparison of the leading solutions on pricing, feature sets and more.