WEM: What the Heck Is Web Engagement and Why Does It Matter?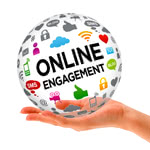 Google Web Engagement Management, WEM, or even What is WEM?, and you might find a few software platforms (plus a wealth of relatively useless links) — but you'll be exactly zero steps closer to understanding what the heck the term means.
For those unfamiliar with the acronym (read: all amateur software users), the team at Business-Software.com decided to clear up the confusion surrounding this relatively novel industry term. To begin, let's equip you with some information to help build a clearer and more concise definition of web engagement management.
Web Engagement: The Modern-Day Marketing Tactic
We're approximately 7 years into the Facebooking/tweeting frenzy, and most companies now seem to grasp that modern communication technologies require reformed marketing techniques. Between the plethora of mobile devices and the reproduction of social media platforms, the face of the marketing game has received a drastic facelift.
No longer are a CMS platform and automated emails enough to help nurture the company-customer relationship. Today's successful businesses must know not only how to employ new webs of communication, but also how to remain active and influential. Yet few have the expertise to understand the best plan of attack for this novel, more dynamic company-customer relationship.
That's where WEM comes in. Web engagement management is a more comprehensive solution that helps companies react to these transformations online. A platform to help manage online engagement aids the larger philosophical change occurring among many companies, which gives greater weight to the customers — their needs, their experience, their feedback.
How WEM Works
WEM could best be described as the organizational platform that bridges companies with online communities of both consumers and potential consumers. But one essential feature must exist in order for this bridge to function properly — it must be a two-way bridge.
This contemporary approach to more effectively connect with online users (of which there are many) relies on a cyclical network that's constantly in motion. The company must regularly engage with consumers, who will then feed their opinions to the general public, at which point the company re-engages with customers to clear up dissatisfaction and ensure a positive image of the brand.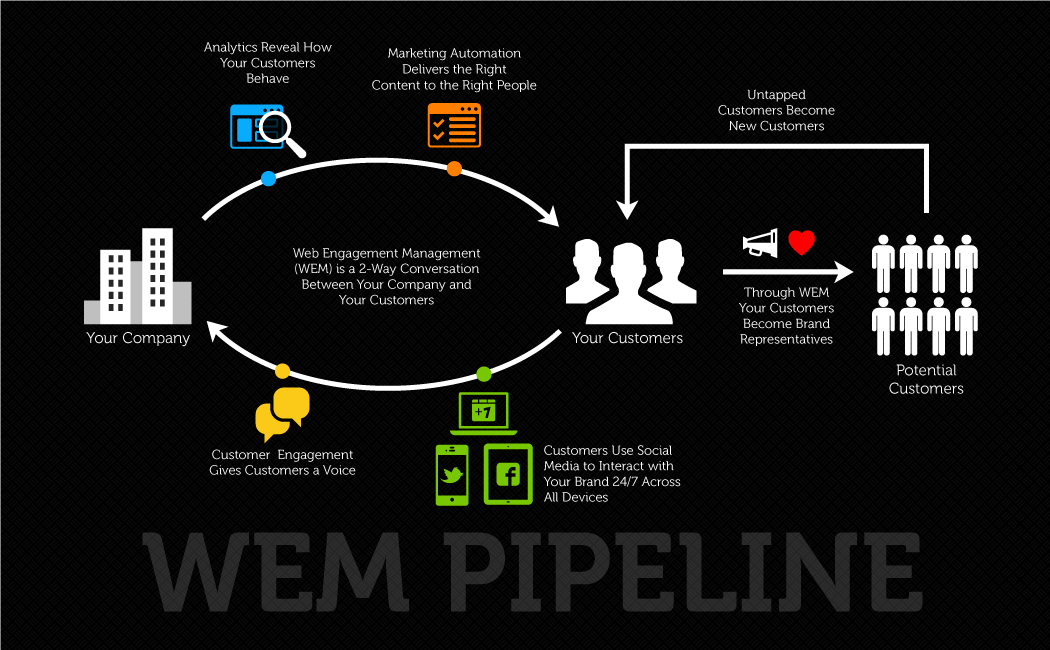 So just how does web engagement management help operate this cycle? By utilizing a number of key technologies available to modern businesses to establish a chain of engagement:
1. Analytics: The ability to track and review customer patterns and preferences is the first step to empowering businesses to better understand their consumers. Greater perception helps a company tailor its services to customer needs and ultimately build a stronger product lineup.
2. Customized Marketing: An enhanced version of outdated email campaigns, the customized marketing strategy allows businesses to deliver messages tailored for a specific audience to that group at the optimal time.
3. Multi-Channel Accessibility: With mobile devices and portable computers prevalent in today's society, businesses have more opportunities than ever before to reach consumers. Modern companies can target clients through multiple apparatuses and cultivate deeper brand connections that once seemed implausible.
4. Communication Platforms: The proliferation of social media, networking sites, and online communities encourages consistent contact between brands and customers in a completely novel way. Companies who actively engage with consumers across multiple online platforms perform exceedingly better than their competitors.
Why Should My Company Use WEM?
While it's true that many companies now have social media enthusiasts in attendance, it takes much more than a few Twitter fanatics to create and implement a multi-faceted marketing strategy in today's online world. Businesses need a solution to efficiently collect, pursue, and nurture their relationship with consumers– one that includes a number of powerful tools and employs a variety of techniques.
But in reality many companies simply don't have on-staff employees with the know-how to artfully juggle and fulfill all of these needs, unless they've recruited to address that weakness — hence the need for WEM.
A web engagement management application can provide immense value-add to a company currently struggling with its online presence. The optimal WEM solution will:
Foster the continuous exchange of information between customer and company brand
Measure user experiences and arrange collected data into actionable analytics reports
Deliver content to target audiences at the right time
Increase company awareness of public opinion
Provide the tools to address and improve public brand perceptions
Help transform a potential customer into a brand spokesperson
Pick a WEM Solution That Will Make Your Job Easier
Choosing a platform to manage web engagement can be tricky for a variety of reasons. For one, this particular software segment is more convoluted than your typical CMS or marketing solutions. The WEM industry itself is only in the infant stage, and merely locating your choices can require considerable time and research. Add to the mix the fact that most, if not all, businesses will seek a unique set of functionality within their web engagement management system, and you have a recipe for a rather frustrating software search.
Before you begin evaluating products, first determine where your existing gaps in online marketing exist and look for solutions tailored to those needs. If your company wants to channel its energy into social media, a tool such as Sprout Social that helps optimize your brand's social media presence might prove most effective. Businesses seeking a more robust platform should focus on products like elcomCMS, which offers a suite of comprehensive online marketing tools as well as content management functionality.
A WEM solution can greatly impact your company image in the webosphere– just make sure you take the time to explore all of your options to find the best fit for your business.
What company-changing online marketing tools do you recommend? Tell us about it in the comments section below!
For more information on top marketing software and other engagement tools, download one of our free marketing software comparison reports or browse top web engagement platforms and other marketing solutions on our Marketing Software resource center page.