5 DIY Mobile App Development Tools: No Coding Required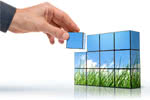 With the rise of mobile technology, it's becoming increasingly important for businesses to create mobile apps. Luckily for small businesses without a dedicated developer, there are plenty of affordable mobile app development platforms for creating your own app with no coding necessary. Here are our picks for the top 5 platforms for taking your brand mobile.
If you need a quick, easy-to-implement way to engage with your customers, Mobile Roadie provides an excellent platform. Its focus is on helping businesses connect with people who love their brands, so Mobile Roadie provides plenty of tools for social media integration, gamification, and media sharing. Their templates are a little inflexible, but the design is clean and attractive, so their apps still look professional. Another perk is that Mobile Roadie also provides analytics tools so you can track user engagement and see how your customers are using the app.
Best if: Your brand is highly customer-oriented
Cost: Mobile Roadie charges $499 for app submissions, and $29/month thereafter
App Breeder is a relatively low-cost option that relies on "app kits" to help users design their mobile apps. They feature 11 kits that provide users with different features tailored to specific industry needs, such as an on-site accident reporting form for lawyers' clients. They also offer discounted custom development to help users make sure that their app has exactly what they need, but since they are templated their basic design is not as customizable as other providers. Although App Breeder is great for budget-conscious developers, they don't provide analytics tools and their prices scale based on device compatibility, so if you want your app to work on all iOS, Android, and mobile web devices you'll have to pay more.
Best if: your SMB needs a functional, industry-specific app that won't break the bank
Cost: $99 submission fee and monthly fees starting at $29/month ($59/month for all devices)
EachScape is the premium code-free web app development platform on the market right now. They feature a drag-and-drop design interface, which makes app appearance fully customizable. Our favorite feature from EachScape is "Blocks" – modules for implementing different features into app designs. EachScape is gearing up to debut a Block marketplace, where developers can submit different blocks for designers to buy and implement, helping to increase their offerings and push innovation in the web app development industry. They provide excellent analytics tools, making it easy to stay on top of your data. EachScape is easily the most expensive platform on our list, but their team is currently working on a Lite version to make their platform accessible to more companies.
Best if: you have a larger budget and want to have a lot of design control and strong analytics
Cost: Licensing starts at $2500, with a Lite version in the works
Application Craft is probably the most powerful platform on our list because it provides something that the others don't – in addition to drag-and-drop designing, it features code editing and debugging tools, giving users as much control over their design and functionality as possible. However, it's still completely accessible for those who don't know how to code- while these tools are available, they are not necessary to create a customized, high-functioning application.  Application Craft also provides a simple, one-click tool powered by PhotoGap for converting your HTML5 design into a native app for submission to app stores. One of the downsides of their entry-level package is the mandatory ads that appear on your application. But the Pro level package comes with so many great features like multi-language development and credit card payment functionality that you'll be tempted to upgrade anyway.
Best if: You want a user-friendly interface and the ability to edit/debug code yourself
Cost: $14/month for basic, $45/month to upgrade to Pro 
If you're a graphic designer, App Press had you in mind when they designed their mobile app development platform. Their design interface looks and functions just like Photoshop, so learning how to use it is a snap if you're already familiar with Photoshop. The platform is affordable and easy to use, and has the great perk of featuring Dropbox integration, so you can access your assets without uploading them to the platform. Unlike most of these development platforms, you can't "try before you buy" with App Press- but the cost to sign up is low enough not to be prohibitive.
Best if: You're a Photoshop pro  who wants to start designing quickly and easily
Cost: $10 to access platform and start prototyping, $30 to start publishing
Want more information on the leading application development solutions? We've compiled top product reviews, blog posts and premium content on the application development resource page. To find the best QA testing software or defect tracking solutions, download and browse one of our free Top 10 Application Development reports.