5 Ways School Management Systems Help Centralize Control and Cut Cost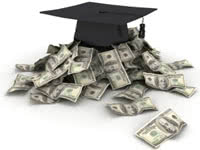 We've already covered the essential features of school management systems, but their worth extends beyond clean user interfaces and automated tasks all the way to the bottom line. Sure, there is intrinsic value in productivity applications because of their ability to improve workflows and eliminate time consuming or tediously repetitive tasks, but if the adage that time is money holds true then any service worth investing in must also save you some capital in the long run.
Perhaps because educational institutions are slow to adopt new technology and typically operate in a segmented fashion whereby accounting, grading, admissions, et cetera each operate independently of the others, there is seemingly more potential for a school to experience immediate reductions in operating costs by implementing an enterprise software solution than there would be for, say, a tech startup.
It is precisely this potential for quantum leaps in the form of increased productivity and reduced cost that is driving the market for school management systems forward at a blistering pace. As already mentioned in the summary of essential features, this rapid growth has resulted in a large number of products seeking to solve the same problems with an assortment of unique packages and tools that make side by side comparison a daunting if not altogether futile exercise. With this in mind, note that for each of the following features the corresponding software is not its exclusive vendor, but rather an example of a company whose product focuses strongly on that area.
When it comes to school management systems, the ability to track all invoices in one place is more than just a way to make sure that you haven't lost track of past due fees. By creating canned templates for charges and billing cycles, the process of accepting payment becomes at once easier to manage and less like corporate collections. Bills can be sent to parents automatically which means less manual supervision of finances and a routine billing schedule that can be processed via ACH for less work on the family's end.
Fundraising seems to be the hot potato of school management—each company juggles it differently. Active Network and blackbaud each offer fundraising as an add-on to their central software packages while SchoolFront builds fundraising and donation tracking into their system. Regardless of how the fundraising module is integrated, it would be a grave mistake to ignore its immense value. Especially for small and independent schools where donations comprise a vital part of annual income, automatic email campaign generation and recurring donations mean greater exposure, interaction with your base of alumni and parents, and, yes, endowment.
It seems that no two schools operate their cafeterias in the same way with some acting as cash-only convenience stores while others use meal tickets or rechargeable credit cards to accept payment. School management systems aim to simplify and automate food services as much as possible so students, cafeteria workers, and faculty can all focus their attention on matters more important than how to exchange currency for a carton of milk. For example, Sycamore Education's cafeteria manager allows teachers to place orders straight from the classroom and gives administrators the ability to create an unlimited number of pricing plans. Parents can even check their balance, add money, and place orders remotely so there's no forgotten lunch money or complaints about what's on the menu.
Integrated Accounting (RenWeb)
Unless you're stuck in a 20th century time warp, your school already uses accounting software. School management systems aren't a replacement for your accounting system but rather an accompanying tool to make managing your finances easier by at least a few orders of magnitude. No matter how sleek or clunky your accounting software might be, more than likely it is either costing your staff time in manually entering transactions or costing your school money in hiring an accountant to manage the books for you. By integrating your accounting and school management systems, not only will all of your transactions be automatically sorted and imported, but you will be able to either significantly reduce or completely eliminate expenditure on outside accounting services.
Financial Aid Systems (Vocado)
Financial aid is easily one of the most complex and opaque aspects of any school's administrative responsibilities. Federal and state regulations demand compliance, can take weeks or months to process approval, and often leave students stranded due to returned documents and missed deadlines. Financial aid modules within school management systems like Vocado automatically integrate with federal aid gateways and can generate and complete the necessary documents for compliant filing. Not only can financial aid systems make processing easier, but in many cases include tools for quickly calculating aid estimates on an individual or school-wide basis.
The Upshot of a Unified UI
While each of these functions could largely be accomplished by individual pieces of software, the true appeal of school management systems is that they provide a single platform from which all aspects of an institution can be managed. Ultimately, greater visibility between colleagues and departments means that things get done faster and with greater precision since each system is necessarily linked to the others. As stated earlier, the potential return on investment from implementing a school management system is well beyond the threshold of statistical significance when you consider the combined savings after each part of a school's day to day operations has been optimized. Whether an industry standard software package or business model emerges tomorrow or next year is irrelevant, what we can say with certainty is that the development of school management systems will only continue to grow as administrators discover the value of enterprise software in an educational environment.