Behind the Software Q&A with Aerohive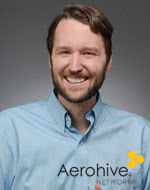 As mobile devices become a more integral part of the workplace, organizations must find new ways to provide reliable, secure Wi-Fi connections. Aerohive is shaking up traditional Enterprise Wi-Fi systems by providing smarter, simpler Wi-Fi networking solutions. In this Behind the Software Q&A with Aerohive we talked to Matthew Gast, Director of Advanced Technology, for a look at what's next for the company.
What is Aerohive, and can you tell me a little bit about your company history?
Aerohive was founded in 2006. Looking at the Wi-Fi market and equipment available at the time, there was a standard way of building Wi-Fi networks where you'd build access points. They would be hooked up to a device called a wireless LAN controller that provided support for the network. However, Aerohive was founded on the big idea that these things could be turned into protocols for software, which cost a lot less than hardware. We were able to drive a change in the way that wireless networks were built to be more efficient for our customers. We later took this core technology, expanded it into other areas of networking, and released routers and switches. This helped to remove the complexity, and therefore a lot of the operational cost, in deploying these networking solutions.

About the Company

WEBSITE: www.aerohive.com
LAUNCHED: 2006
LOCATION: Sunnyvale, California
Let's talk about your software solutions. What sets your products apart from other providers?
When networks started out it was often a matter of, "I trust everybody inside my company. I don't trust people outside my company, and so therefore I'm going to put a thick, bright line in between these two classes of users and make sure that they never meet." But there has been an explosion in terms of how we connect to networks. When I started in this business, we connected desktops. Now I'm in my cubicle, I'm talking to you on a voiceover IP phone that's connected to our network. I have a laptop computer, I have a phone, I have a tablet, and I have another handheld touchscreen device. All of these serve different roles in my own computing, and they all need to be treated differently by our IT department. I don't always deserve high priority access to the network, but right now I need it in order to talk to you and have my voice be intelligible. When I use one of my personal devices it's important that I'm able to access resources in a way that doesn't jeopardize our IT security policy. Aerohive has taken all of these factors and put them together so that network administrators can deliver a personalized user experience for the user that depends on who they are, what they're doing and what kind of device they're using.
Are there any challenges to providing this kind of Wi-Fi solution? It seems like a certain amount of intelligence is required to provide different permissions and levels of security company-wide.
A large challenge that we've had to face in doing this is that there are broad policies that have to translate all the way down into handling particular packets. As you create this policy, our management and monitoring system is able to take that policy and translate into specific actions on each of the types of devices that we make so that you're able to create something that is unified across your entire network. By allowing a policy to be designed broadly, it can be applied to many different kinds of devices.
What kind of organizations do you typically serve? Has that changed as you've grown?
The first big adopters of Aerohive technology were organizations that had a distributed nature to them. When we started off, the standard way of building a wireless network was having everything connect up to a controller. That worked fine as long as you had all of your access points within a reasonable distance of each other (the best way to define reasonable distance is you could walk from one end of your network to the other). So that doesn't necessarily have to be a single building. It could be a university campus. That way of building networks was not at all suited for organizations that were much more spread out. To stay in education, for example, a school district has schools in many individual neighborhoods, that aren't all in one place. And if you go to some states, a school district might cover an entire county, where it takes hours to drive across.
The initial architecture that assumes everything in a network is geographically close together isn't true anymore. Being able to define those policies at a network level makes it possible to eliminate a lot of the complexity in terms of how you design the network to support a distributed environment. An administrator or a faculty member should be treated the same as in any school that they went to, but you might not treat high school students the same way as you treated elementary school students. And what we found out is that almost every organization is distributed to some degree. The idea that there is an office that everybody goes to and that's the only place work gets done is just not the case anymore.
A fully distributed enterprise might include several office buildings. It might include remote offices where there are sales people. It might include remote branches, or corporate executives who are traveling and their hotel rooms are temporarily part of the corporate network in order to access resources. By providing simpler network solutions and by making them easier to manage, we were able to bring a high quality experience to the IT department even without them having to go and learn exactly how all these protocols worked. It made it possible for us to deliver that high quality enterprise grade experience to a much larger number of customers.
What should we look for from Aerohive in 2014, any new products, any upgrades, updates?
One of the great things about Wi-Fi is that there is always something going on. Without having a wireless network it's really hard to imagine having a device like the iPad because if you're going to have something that is so easy to hold and walk around with, you don't want to be tethered to a wall. The demand for high quality Wi-Fi networks just continues to rise. The Wi-Fi industry as a whole has had to respond by creating ever faster forms of Wi-Fi. Right now we are in the midst of a big transition. 802.11n was the first form of Wi-Fi that was really usable as a replacement for Ethernet. And we're in the process of replacing it with 802.11ac, sometimes called Gigabit Wi-Fi because it has a nice, big, round speed, and that's, of course, a large part of what we're going to be working on as a leading Wi-Fi vendor.
Another important piece of what we're working on is being able to control and manage the applications that a user is working with. Most network administrators know about the important stuff on their network, but they don't know all of the ways in which a network is used. We've started working on finding ways to report on how the network is being used and give network administrators that monitoring, enabling them to deliver a better experience, to know when new applications are in use and when they need to adjust their policies, and to help plan and deploy new applications that come out.
As part of this effort, we just launched our Mobility Suite which is a cloud-enabled mobility management solution that allows enterprises to manage and control a range of devices, from those of guests to personal devices of workers. The suite consists of three components, Aerohive's Client Management application, ID Manager application and partnerships with mobile device management software partners Airwatch and JAMF. Through the suite, administrators can simplify and automate onboarding, management, and troubleshooting of connected devices as well as personalize access rights based on available context. The Mobility Suite, combined with Aerohive's network infrastructure, enables lean IT departments to centrally manage, and enforce policy, on thousands of devices in hundreds of distributed offices. This all goes back to our goal of allowing enterprises and organizations to transform their networks into platforms for mobility.
For more on Aerohive's products and services visit www.aerohive.com.