First Look: LogicMonitor's Lightweight Java-Based Stack Monitoring

Solutions designed to monitor a stack, the sum total ecosystem of all the IT hardware and software necessary to run daily operations, are nothing new. What is new, however, is the idea of stack monitoring as a lightweight software-based solution. A Santa Barbara-based vendor named LogicMonitor is offering a monitoring system that delivers on that idea.
We got the opportunity to take a demo tour of LogicMonitor's flagship offering with CEO Kevin McGibben. Here are our takeaways.
LogicMonitor Building Block: The Collector
Central to LogicMonitor is the Collector, a little piece of Java. The installation process consists of installing a Collector onto a server or virtual machine somewhere on the stack that needs to be monitored. And that's it.
A Collector can be directed to monitor the performance on any batch of devices inside the stack that the administrator assigns it to. Multiple Collectors can be installed according to the admin's needs (at no extra cost).
Installation points aren't limited to an on-site internal stack either. Collectors can be freely installed across the various different stacks, including co-located servers and cloud deployments, which comprise the greater whole of the organization's digital operations.
Company in Perspective
LogicMonitor the company is the product of founder and chief product officer Steve Francis. The story behind the eponymous product's origin is not all that dissimilar from many in business software. As a system administrator at various places including National Geographic Society and the University of California system, and later as an IT consultant Francis ran into friction points in a number of key areas:
The burden of manually configuring each new device on a network to be detected by the monitoring system
The (unrealistic) expectation on the part of device manufacturers that the end user would know which performance metrics are the most important on that device
Simply accessing the data relevant to addressing an IT problem often takes an inordinate amount of time
By slaving everything to laborious manual inputs on the part of the system administrator, a stack is rendered open to any number of human error-related issues; devices not being registered and running unmonitored, several months' worth of network audits being inaccurate since not every device is accounted for, bottlenecks and breakdowns tied to issues with devices that could have been caught months earlier.
The kicker is that a lot of times those issues aren't even the result of gross negligence on the part of the administrator. As Francis puts it in his manifesto for LogicMonitor, even good sysadmins are imperfect. Changes to network configuration can come fast and furious, especially when a technical issue is afoot, and it's very easy to miss something in the midst of that kind of crunch.
Plug-and-Play Monitoring
One of the coolest features of the Collector is the automation of device discovery and configuration, meaning LogicMonitor automatically detects when new devices and/or elements are added to the stack and configures them so that they're integrated into the system monitoring straight off the bat.
You might remember a time when a new mouse wouldn't work immediately upon plugging it into a USB port on a PC. Instead the user would have to install the device drivers off a disc first and then configure and calibrate the device before it could be used. Applying the same logic to setting up the bits and pieces of a server, the idea of automated discovery and configuration to boot is exciting. The potential in time saved and potential gaps sealed alone is impressive.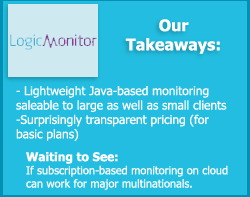 Between plug-and-play device integration and a surprisingly transparent pricing scheme for its basic edition, LogicMonitor seems to be hitting the sweet spot between consumer-y accessibility and providing automation that actually addresses a true IT issue in a way that's equal parts novel and economic.
Looking for more information on specific IT management solutions? Your next step should be to take a look at our exclusive Top 10 IT Asset Management Software report. If you want to find out more about LogicMonitor, our Q&A interview with CEO Kevin McGibben goes live next week.