Cloud Security: Don't Let It Keep You Up at Night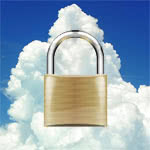 Adoption rates for Cloud computing and software-as-a-service (SaaS) solutions are rising despite some people's concern over Cloud security. The fact is, security and protection of confidential business data should be a concern whether it resides on an in-house server or a Cloud environment. Moreover, server locations of companies are not necessarily better protected than the Cloud. In fact, reputable Cloud applications are usually far more safe because they have better means to protect, secure, and back up data than any small-to-medium company ever could in-house with an on-premise solution. The advantage of the Cloud is economies of scale.
Have you ever use Amazon, eBay, or Gmail? Then you've used secure Cloud solutions and probably never thought much about it. But today's large Cloud applications have, and most have security down to a science, if you care to look under the hood.
Take Intacct, for example. As a comprehensive, fully Cloud-based, financial management and project accounting solution, Intacct has built a specific set of operational characteristics that have helped to ensure the highest levels of availability, integrity, and security for its customers for more than 12 years. Consider these guarantees for customer data:
Protected at two redundant Fortune 100-class Tier 1 data centers.
Guaranteed application availability at 99.8% and actual availability is much greater, usually 99.97%.
In case of major disaster, applications will be up and running again within 24 hours.
Continuous local backups plus streaming backups to a remote disaster recovery center.
The last 24 hours of transactions are continuously preserved in Oracle redo logs.
Maintains SSAE 16 (upgraded from SAS 70) SOC1 Type II audited processes and controls plus PCI DSS certification (put forth by the Auditing Standards Board).
Monitors application performance and responsiveness constantly from around the world.
Monitors and manages system operations 24x7x365.
Commitment to transparency, with real-time system status always available.
Assistance should you decide to leave. Intacct helps you get your data out of their system and can preserve it on their system until you're ready to migrate it.

Want to read more insider-perspective posts? Browse our entire archive of tips and advice from software industry experts by visiting the Industry Insights section of the Business-Software.com blog.