Clustrix Closes $10 Million from HighBar Partners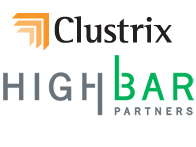 Clustrix, the scale-out SQL cloud database, announced yesterday morning that it has closed a $10 million Series D financing round led by HighBar Partners. The company's plans are to grow its cloud database solution. But considering the company already is a self-proclaimed leader in its industry, there's no telling how high they can reach or in what ways they will lead.
Clustrix acquired its large sum of cash from HighBar Partners, a private investment firm that focuses on strategic growth capital investments.  HighBar assists with financial, strategic and operational execution for tech businesses. When evaluating companies, the firm not only matches the company to investment criteria, but it evaluates the team, the technology and the value the investment brings to everyone involved, ensuring an optimal outcome. HighBar has founded, operated or invested in over 100 companies in the technology sector with companies including Creative Design Solutions, Tapulous, and Tasmania Networks who have been acquired by companies such as Disney, Cisco, and Seagate.
Clustrix's Dynamic Past
Clustrix was born as a start-up company backed by Sequoia Capital, US Venture Partners and ATA Ventures. Its founding members included senior management team members from organizations like AOL, HP and Salesforce. Since its founding in 2008, it has powered large-scale production customers worldwide and in industries such as e-commerce, consumer web services, online advertising, gaming, SaaS, and healthcare.
The database vendor promised that the $10 million investment will be re-invested into systems directly affecting the companies who use its services."The need for operational databases that can analyze data in real-time has never been greater with the rapid growth of new hyperscale applications in business segments such as e-commerce, online gaming and advertisement," said Clustrix CEO Robin Purohit in yesterday's press release. "The additional funding will allow to aggressively pursue the rapidly growing MySQL/NewSQL market with our proven scale-out database technology."
The NewSQL Advantage
Self-defined as a scale-out SQL as opposed to NoSQL, Clustrix sets the terms straight.  "NoSQL is one way to characterize the new crop of data stores, but the term misses the mark," Raj Bains stated on the Clustrix company blog. "The real thread binding these new data stores is their scale-out architecture and the ability to incrementally and predictably scale on commodity hardware." Because not all NoSQL are scale-out, Clustrix brands its service as a scale-out SQL (or NewSQL for short).
NewSQL's strength is in scaling. It grows with far less horsepower than a scale-up model. Scale-out works on a distributed database that manages how it distributes documents across node servers. Bains says, "With 20 commodity servers, you can build a 320-core database in minutes that has enough horsepower to match a scale-up monster. This scale can be doubled seamlessly by simply adding more nodes." This newSQL technology makes scaling far easier than the scale-up model. And with a large investment, Highbar has given Clustrix the tools to scale at no limit.
Clustrix's second greatest strength is its power of immediacy. The SaaS technology model with NewSQL brings powerful real-time analytics into the Clustrix mix. An increasingly global and minutely competitive market calls for up-to-the-minute tools, and Clustrix delivers that in true real-time fashion, leveraging five day click histories within 120 milliseconds.
Clustrix has already come a long way to deliver powerful cloud NewSQL databases for companies of any size. With $10 million gliding elegantly into their back pocket, power is at their disposal. All we need to do is kick back and watch how they handle their investment. And according to Highbar's rigorous system, chances are Clustrix will spend it right.
Want to learn more about data centers? Browse the BI software resource center page for product reviews and blog posts on business intelligence software and data center trends.