Collaboration - It's a Small World After All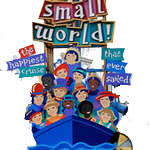 It's becoming increasingly common for companies, both large and small, to work in multiple locations. Employees live in different cities and countries around the world. Work happens around the clock. Interactions are virtual, rather than face-to-face. And as the company's business expands, operations expand with it.
Regardless of whether you're in a small, distributed business or a large enterprise, social business is about bringing these people closer together. It's about creating a smaller world inside your organization, so employees can collaborate more effectively. It's about having the soul of a start-up, even when you're on the Fortune 500.
Consider NII Holdings, a mobile communications company for business and consumers in Latin America (operating under the Nextel brand). They are a Fortune 500 company, with over 15,000 employees in six countries – United States, Brazil, Peru, Argentina, Chile and Mexico.
Previously, their organizational structure was more holding company than operating company and they felt that it was critical to break out of the functional and geographic silos in order to work as one. Employees were trying to collaborate with their peers they just didn't have the tools to support it.
So, NII launched a cloud-based collaboration platform to help connect the business. The goals? Deliver consistent information to all employees, improve productivity, support employee connections and collaboration and foster a sense of belonging to a global company. It has rolled out to the HQ and they're in the process of rolling it out to other markets right now.
Interested in hearing about their experience first-hand?
Join Ana Camargos, senior manager, internal communications at NII Holdings, and Angela Ashenden, principal analyst, collaboration at MWD Advisors, as they discuss industry trends and proven tactics for collaborating across borders and boundaries in a social intranet.
Reserve your seat now for the live webcast – Thursday October 25 at 12 p.m. ET / 9 a.m. PT – or register to receive a recording. http://info.igloosoftware.com/smallworld.
You can also check out the case study that appeared in Melcrum's Strategic Communication Management earlier this year.
[This post originally appeared on the IGLOO Software company blog and is republished with permission.]