ERP Nightmare: Implementations Gone Awry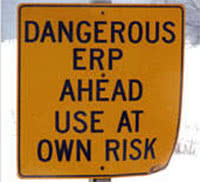 ERP software can benefit your business by connecting all the databases within your company, providing you with a single, integrated view of your entire organization. While seemingly not as sexy and exciting as some other buzz-y segments like Social CRM, ERP has its fair share of fame—and infamy.
No doubt, ERP software can be beneficial for a business—if implemented correctly. ERP software often has a bad reputation within the business software world as being too complicated, costly, and difficult to use. When carefully chosen and strategically implemented, ERP can deliver real value and cost savings to an organization. When it's not, the ERP project can become a giant headache, as the following companies have found…
Failed Promises: Major Brands vs. Epicor
Major Brands is the largest wholesale beverage distributor in Missouri. A growing distributor with business requirements that have outstripped their current technology applications, Major Brands turned to a new system to replace its existing one, choosing to sign a contract with Epicor in 2009. According to their lawsuit, Major Brands claims that Epicor assured them that the Epicor V9 software could be used without needing a "substantial" upgrade of Major Brands' existing hardware. Epicor also claimed that the applications would by installed and running by mid-2011.
Instead, problems sprung up almost immediately, with applications running so slowly, they were almost useless. A hardware upgrade was recommended by Epicor, costing Major Brands an additional $100,000. As the go-live date continued to be pushed back, latency problems were identified as the primary obstacle in conducting a successful run of the system–issues that Epicor promised to fix. Instead, problems continued, with Epicor recommending Major Brands to make "numerous changes and upgrades, including an upgraded and yet-to-be-developed computer software platform, ICE 3.0."
In the end, Major Brands racked up over $1 million in additional costs before filing suit against Epicor for breach of contract and negligent misrepresentation.
Mismatched Partners: Public Health Foundation Enterprises (PHFE) vs. Lawson
Public Health Foundation Enterprises (PHFE) provides fiscal sponsorship and infrastructure management services to non-profits and government agencies. Looking to integrate their separate applications into one system, PHFE signed a contract with Lawson in 2007, also taking advantage of an offered discount at the time.
According to their complaint, PHFE found problems right away with Lawson's customer service and training programs. PHFE also alleges that consultants provided by Lawson did not have the skills or experience to answer PHFE's questions or to properly configure the system, delaying the progress of the ERP implementation. A system test was never completed due to technical issues, with Lawson providing a revolving door of consultants until a permanent one was assigned in January 2008, according to the suit filed by PHFE.
In July 2009, PHFE sued Lawson for more than $1 million over the failed ERP implementation.
A Bad Fit: City of San Diego, California vs. Axon
Axon is an Integrated SAP Services and Implementation consultancy. In 2009, the city of San Diego fired Axon over "systematically deficient project management practices." Contracted to guide the city of San Diego through its software implementation, Axon failed to "adequately maintain the project plan that permits effective resource utilization…," among other deficiencies alleged by the city of San Diego.
In the end, finding Axon's consultancy expertise in implementing software for local government agencies to be lacking, the city of San Diego ultimately chose to terminate their contract with Axon and move forward with consultants provided by SAP.
Steps to Avoid an ERP Implementation Nightmare
What can your business do to prevent ERP implementation nightmares like the ones described above? Don't pick a system because it is the cheaper option. Pick the solution that best fits your organizational structure and the processes you have. This may take some time, but in the end you may save yourself millions of dollars. Don't rush the ERP implementation project either and choose partners that understand how your business works.
What best practices does your business follow to ensure a successful ERP implementation? Share your thoughts in the comments section below. You can also find more tips on ERP selection and adoption by checking out the exclusive resources available on the enterprise resource planning page.