Financial Planning Software 101
Although financial advisors aren't running Wall Street, their job is no easy task. A financial advisor works as a jack of all trades, building a stable client base, managing large amounts of money and staying up-to-date in a world where regulations can change at the drop of a hat. To provide clients with the best service possible (and to keep from going crazy), these individuals need top-rated financial planning software.

Financial Planning Software Ensures Compliance
One of a financial advisor's biggest concerns is keeping up with ever-changing rules and regulations. Depending on the value of the assets you manage, as a financial advisor you may be regulated by FINRA, the SEC or local organizations. Either way, failing to comply is bad for business, which is why financial planning software is so important.
Software that's designed specifically for financial businesses provides tech-savvy advisors (and other financial employees) with a serious advantage. Instead of tracking regulation changes on their own, advisors can rely on their financial planning systems to monitor rules and regulations. With built-in tools to help advisors operate within regulations, the right financial planning software takes the guesswork out of what advisors can and cannot do. The software can alert advisors to potential problems before they happen, and will provide an audit trail should an issue arise.

Key Features Advisors Want in a Financial Planning Solution
Since financial advisors from massive firms — we're talking Merrill Lynch and Morgan Stanley — have an arsenal of financial planning software at their convenience, the key features (and related solutions) in this blog post are primarily geared toward financial advisors operating alone or within a small business environment.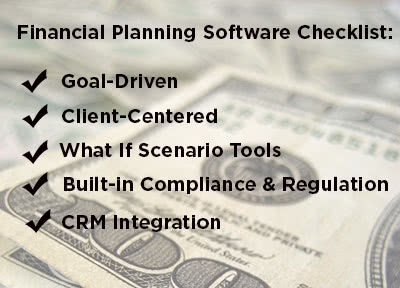 The best financial planning software is both client-centered and goal-based. Financial advisors should be able to see how different factors could affect their clients' goals by using scenario planning and competitive analysis tools. Planning for retirement is one of a financial advisor's most important tasks, so they need to be able to easily create retirement plans using what-if scenarios.
Solutions that can graphically illustrate these potential scenarios are best, as they make it easy for advisors to show clients how certain changes will affect their long-term financial position.
Top-of-the-line financial planning software streamlines data entry, allowing financial advisors to focus on growing their books instead of manually plugging in numbers. Financial advisors also need software that integrates with the current solutions they're using, be it performance reporting solutions, risk profiling software, trading solutions or calendar management tools. At the very least, the financial planning software should deeply and effortlessly integrate with CRM software. Customer relationship management is the cornerstone of any single advisor's operations, and any inefficiencies in this area will directly impact the advisor's bottom line. Lastly — and most importantly — one's financial planning software must help an advisor stay compliant with regulations.

3 Financial Planning Software Solutions Advisors Will Love
Here are three financial planning systems that financial advisors and small finance firms can use to attract more clients and better plan for the future.
1. MoneyGuidePro

MoneyGuidePro is a top-rated financial planning solution that's been ranked as the most-used financial planning software for a number of years by Financial Planning. This solution does a great job of catering to clients with risk assessment solutions, a robust client portal and tools like My Snapshot, which lets clients see how they're doing in conjunction with their long-term goals. The client-centric solution also integrates with a long list of software including MorningStar Software, Upswing, Ameritrade and Advisor Products. Lastly, MoneyGuidePro offers compliance controls and a built-in Risk Tolerance Questionnaire and Portfolio Probability Matrix.
2. Money Tree Software TOTAL

The Money Tree Software TOTAL planning suite combines three financial planning solutions into one comprehensive package. TOTAL facilitates in-depth, big-picture financial planning to help financial advisors prepare for both short-term financial goals and retirement. The software offers complete coverage, detailed audit tracking and tax analysis. To demonstrate how actions will affect a client, advisors can use TOTAL's interactive "What If?" tool to graphically analyze future choices.
3. eMoney 360 Pro

Brought to you by the people at eMoney Advisor, eMoney 360 Pro is a web-based financial planning solution that's specifically designed for advisors who work with high net-worth clients. The software provides advisors with a personal client website that can be used to foster collaboration with prospects or clients. Unlimited scenario planning enables advisors to model how choices will affect a client's short- and long-term goals. eMoney 360 Pro also offers online document storage and express data entry, and fully integrates with other advisor tools.
Want to read more insider-perspective posts? Browse our entire archive of blog posts on insights gleaned from the software industry by visiting the Industry Insights section of the Business-Software.com blog.
[Image courtesy of flickr user Rachel.]